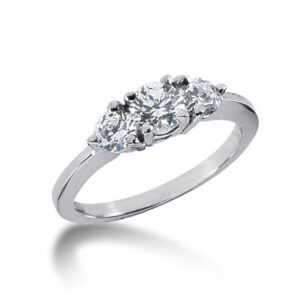 Three stone wedding bands are slowly gaining popularity even with the recession still in effect. This encouraging trend has been influenced by several events, including the positive mindset of people who are more than willing to spend on the luxuries of life. Recent news has it that portals are thriving on the business of selling second-hand engagement rings and accessories. This not only gets the seller higher revenues than at pawn shops but has proved cheaper for potential buyers too! Such developments have only enhanced the popularity of such rings, especially as the niche consumer base has broadened up.
So what are the points that may influence the design or durability of such jewelry? Listed below are some facts that do so, for you to keep in mind while shopping for such exquisite jewelry:
Size of the Gems – The size of the gems do matter while choosing a three stone wedding band. Unlike in traditional rings, all the gems are almost identical in shape. Moreover, the gems also must be larger than average diamonds or gemstones used in rings, otherwise they may look like a simple channel or paved arrangement. The width and length of the band should also be comfortable while holding the gems in place. Too slender shapes may provide an awkward appearance of the gems.
Shape – Rounded or squared shapes are the most popular for three stone wedding bands as they blend in comfortably. While the unconventional couples may also go for oval or emerald shapes, heart-shaped designs are a strict no-no. The latter not only are ill-fitting together, they also can be uncomfortable for you to wear.
A Perfect Match – Many experiment with the idea of mounting colored gemstones on either of the flanks of a larger diamond. While doing so, make sure that these match the color and structure of the three stone wedding bands. Also, keep in mind that the general compatibility between the color of the gems also help highlight the exclusive appeal of each, such as two flanking emeralds with a diamond as a central piece.
Setting – The gems are to be set in an immaculate manner, such that they are not a discomfort to the wearer as well as being strong in nature.
Band Strength – The strength of the three-stone bands are also a major concern, especially if you are buying them online. Keep in mind the weight of the gems, the width of the ring and other details which can offer a straight idea about the durability of the whole ring. Better still, consult an industry expert before you make the purchase.
With these tips in mind, buying a three stone wedding band will cease to be a headache.
You can look for such rings online, where hundreds of sites deal in such jewelry and accessories. Choose from the collection of such wedding bands offered by authentic portals like '25karats.com', and watch your partner's face gleam with joy!