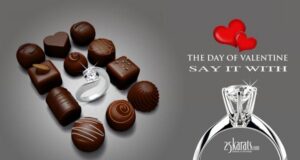 February 14th is just around the corner – and whether you're in a committed relationship or just starting to get serious, you want to find a Valentine's Day gift idea he's sure to love.
Wondering why there's such a huge fuss over gift ideas for this magical holiday? The Valentine's Day gift speaks volumes about your relationship – and there's no denying that if you want to take your relationship to the next level, this gift can be provide you with the perfect opportunity.
So with that in mind, let's take a look at the Valentine's Day gift ideas he's sure to love!
If You're Just Starting Out: If you and your sweetheart are just starting your relationship, you need to tread this holiday with caution. Fail to give him a sentimental gift, and he'll think you're not serious about him; give him too much of a gift, and he'll freak out that you're moving too fast. If you want to master Valentine's Day and keep your new relationship growing, go for humor over sentiment. Some fantastic Valentine's Day gift ideas include his favorite childhood board game, a DVD of his favorite comedian, or a day spent at the arcade (you'll be providing the quarters, of course). It's a touching way to let him know you care without putting too much pressure on a new relationship.
If You're In a Serious Relationship: If you're in a serious relationship with your sweetheart, there are plenty of opportunities to show him that you care. If you really want this Valentine's Day to be the best one yet, consider these wonderful gift ideas that are Cupid-approved:
1. If your man likes his fair share of bling – and let's face it, who doesn't? – consider giving him the gift of diamond earrings. Not only are these diamonds man-approved, but they're very much on-trend in 2012. After all, you shouldn't be the only one to benefit from the gift of diamonds this Valentine's Day!
2. Do you have a sports fan on your hands? Then go all-out for the ultimate sports experience. Buy a couple tickets to see his team play, and treat to post-game beers and wings. If you're not a fan of the game and you really want to earn some serious girlfriend points, insist that he take his best friend to the game. He'll be able to get into the game without worrying about if you're having a good time.
If You're Ready to Take the Next Step: If you're ready to make your relationship official, don't wait for him to spring the diamond engagement ring on you; instead, get down on one knee and present him with a diamond engagement ring! Platinum or palladium bands with a single diamond are great man-approved diamond engagement rings, plus they can double as a stylish wedding band.
No matter what your relationship status, turn this Valentine's Day into one he'll always remember with our great gift ideas for the man in your life!