It's no secret that when it comes to diamond wedding rings, the thoughts typically turn to the happy bride-to-be. What kind of setting will she choose? How will it complement her perfect engagement ring? What will her diamond wedding ring symbolize?
Times are changing, and now it's not just the bride-to-be who is dreaming of a unique diamond wedding ring…
…the groom is as well!
A rising demand for men's diamond wedding rings has cropped up over the past couple of decades, leaving many engaged couples with a difficult choice: how can they pick diamond wedding rings that are made for each other – just like the bride and groom?
The answer is the unisex diamond wedding ring!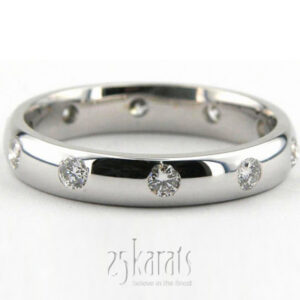 Let's face it – for many men, plain wedding bands just don't cut it anymore. They want to enjoy the same experience of wearing a gorgeous wedding band with sparkling diamonds – and they definitely want to enjoy the look of surprise and envy when they show their new diamond wedding rings to friends, family and coworkers! However, the same gorgeous diamond wedding band can also be worn by the happy bride for equal effect!
A unisex wedding band is exactly that – a wedding band that can be worn by either the groom or the bride. There's nothing ostensibly masculine or feminine about the diamond wedding band, which means that the happy couple can choose matching diamond wedding rings for the big day. Unisex wedding rings typically come in a channel setting, parallel cut or a flush setting with small diamonds embedded throughout the band, completed with a satin finish. Popular metals for unisex diamond wedding bands range from platinum and palladium, as they're elegant yet tough metals that highlight the beauty and clarity of the diamonds. While yellow gold and white-gold can be used for unisex diamond wedding rings; however, as the diamonds used for unisex rings are small, yellow gold can often undermine the look and clarity of these precious gemstones.
So why are more couples considering unisex diamond wedding bands? Simple: the symbolic gesture behind their popularity has struck a chord with many loved-up couples. As these diamond wedding bands can be worn by both groom and bride, newlyweds are choosing to buy matching rings to symbolize their devotion and dedication to each other.
After all, what better way to declare to the world that you and your sweetheart are ready to spend the rest of your lives together?
Looking for the perfect unisex diamond wedding ring? Then visit 25karats.com and let us help you find the perfect diamond wedding ring for your perfect day!