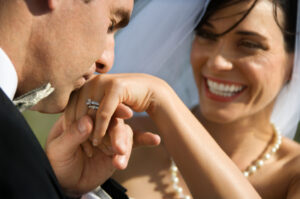 You've done it: you found the person who you want to spend the rest of your life with. Everything they do makes you happy – and when it comes to your future, they're a huge part of it.
That's why you're ready to make it official by getting down on one knee and offering them your heart, soul and a gorgeous engagement ring!
That leaves you wondering how to get your partner to say yes. A successful proposal goes beyond choosing the right ring, and you should keep in mind a proposal is more than the affirmation of your love and the desire to spend the rest of your life with your partner. It's likely a moment they've been dreaming of since the two of you met and it's probably a moment you've been thinking about for a while too! That's why you want to ensure that your wedding proposal doesn't just live up to their expectations…
…It exceeds them!
Rather than spending time worrying about choosing the right ring and how to get your partner to say yes, read on and use this as a cheat sheet for a wedding proposal that's so inspiring, memorable and downright romantic that you'll be guaranteed to get a yes!
Make It About Them. Your partner will obviously be on your mind during your proposal but make sure the proposal itself communicates this as well. Sure, a proposal in itself could be considered romantic no matter what but if you really want to take your partner's breath away, then you need to tailor the wedding proposal to their tastes, interests and passions. Does they love adventure travel? Propose to them while bungee-jumping. Are they passionate about cooking? Cook them up a sumptuous feast and place the engagement ring on top of the dessert. Tailoring the proposal to your partners tastes and interests shows them that you've always been attentive to their interests…
…And you will be for the rest of your lives, together!
And About You Too! Of course, your wedding proposal should fit your tastes and personality as well. For example, if you've never donned a suit in your life, then don't whisk your love away to a fancy five-star restaurant for the proposal (they'll suspect something!). Similarly, if you're a more formal person, then by all means, have a formal kind of proposal. The point is that your wedding proposal should be about you and your sweetheart as a couple: your likes, dislikes, and those special moments that stand out for the both of you.
Pick a Special Day. Anniversaries, holidays and birthdays are too obvious – instead, why not propose to the love of your life on the day of your first kiss, or the day when you both finally said "I love you" to each other? It's a smooth move that'll blow your future husband or wife over.
Choose the Right Ring. The cherry on top of your wedding proposal should always be a gorgeous and unique diamond engagement ring. Like with the proposal, make sure that it fits the personality and tastes of your spouse-to-be: if they've got traditional tastes, then a diamond solitaire engagement ring makes a perfect choice. Likes to be pampered? Then a gorgeous diamond engagement ring with side stones makes the perfect choice to woo your sweetheart.
Hopefully these tips resolve any stress you're feeling about how to get your partner to say yes but if not – go with your gut. After all, you know your better than we do!
No matter what shape or form your wedding proposal takes, why not let 25karats help you to choose the perfect diamond engagement ring? With our factory-direct prices, wide variety of rings and superior customer service, choosing a unique and perfect diamond engagement ring has never been easier!