As far as you're concerned, your sweetheart deserves the gift of a diamond ring every year. But apart from marriage proposals and wedding ceremonies, diamond rings typically aren't given as gifts or tokens of romance. But if you're ready to change all of that, then you're ready to give your love the gift of a diamond anniversary ring.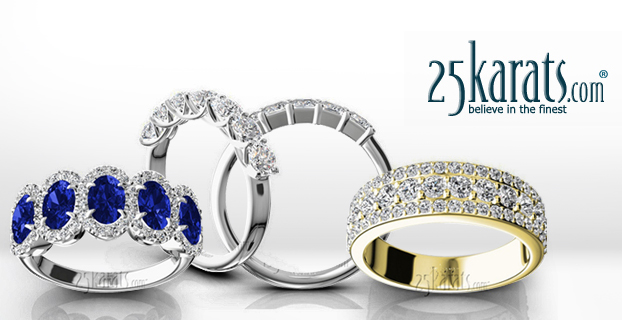 Regardless of whether you're celebrating your first anniversary together or your twentieth, a diamond anniversary ring represents a fantastic gift that will absolutely melt her heart. There are many styles available to the discerning consumer, which means you'll be able to pick the best option that fits your style and budget.
Just take a look at some of the diamond anniversary ring styles, and you'll see why your love will be brought to tears when you show her this token of your love and appreciation:
• Eternity rings represent a unique and romantic anniversary ring, as these bands are meant to symbolize how your relationship will last forever. These bands are encircled by small diamonds that have no beginning or end – just like your love story with your sweetheart.
• Three stone diamond rings represent another romantic approach to anniversary gifts. Each stone symbolizes the past, present, and future – and each stone is as beautiful as your past, present and future with your love.
• Right hand diamond rings represent popular gifts within the LGBT community, as they represent commitment without the need for the traditional wedding ring on the left hand. A right-hand diamond ring represents a perfect gift for your partner to celebrate your love story.
While these are just a few of the diamond anniversary ring styles available to consumers, they're certainly some of the more popular styles out there. However, this doesn't mean you're restricted to just these three types. A perfect diamond anniversary band should be one that suits the tastes and style of your sweetheart. You could even consider engraving a sweet message to your love on the inside of the band, like the date of your anniversary.
Remember that the same rules of diamond shopping apply to buying a diamond anniversary wedding band. This includes understanding how the diamond's carat size, color, clarity and cut weigh in on the final price factor.
No matter which anniversary you're celebrating, the gift of a diamond anniversary ring is sure to put a smile on your love's face. Just make sure you have something even more special planned for the next anniversary, as this gift truly sets the bar!