When it comes to designing custom jewelry for your wedding, you might focus on your own gorgeous wedding band. After all, most people tend to focus on the rocks that decorate the bride's ring finger, while the groom takes a happy backseat. But in today's day and age, more men are finding that they enjoy the spotlight afforded by the diamond engagement ring and wedding band.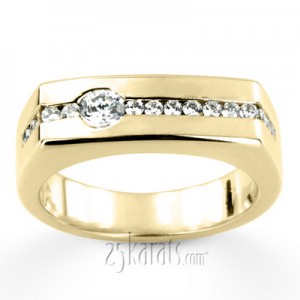 While there are plenty of men's diamond wedding bands and engagement rings available (in fact, you can see dozens of collections at 25karats.com right now), there's no denying that more men want to put their own spin on things. So whether you're buying your man's diamond ring on your own or with the help of your honey, consider custom designing to give your man the diamond ring he's secretly dreaming about:
1. Designing custom jewelry is easy. To get your man the ring of his dreams, try sketching out a drawing of his diamond ring. Ask him what he envisions wearing on his ring finger, or ask his buddies what they think he'd like from a wedding band or engagement ring if you want to keep it a secret. This way, you can design a ring that he'll love without letting him catch on to your plans.
2. Submit the sketch to a custom jewelry designer who uses the latest technologies to create your man's diamond ring. For example, custom jewelry designers should use wax models or 3-D models to turn your man's diamond ring into a reality.
3. Your custom jewelry designer should also submit models of your man's diamond ring throughout the course of the design process. This can help you ensure that your diamond ring is produced exactly the way you want it to be. If you find that you don't like the ring, you can always have the custom ring designer return to the drawing board so he or she can produce exactly what you're looking for.
4. If your man has an heirloom diamond, he doesn't have to give it to you on the wedding – he can incorporate it into his own wedding band. Let your custom jewelry designer know that you have a diamond you'd like to incorporate into the design. This is a great and touching way to pay tribute to your future husband's family.
When you want to give your future husband the diamond ring he's always wanted, consider using a custom jewelry design service, like at 25karats.com.