25karats' timeless wedding bands are exquisitely crafted using the finest metals and most extraordinary gemstones. From gold to platinum, Discover wedding rings for men and women.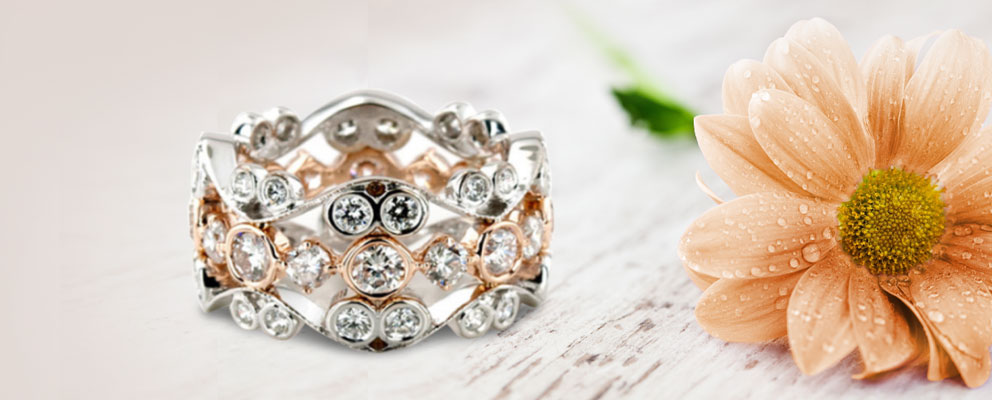 What Our Customers Are Saying
About 25karats Rings
Believe in the finest! Here at 25karats.com we always live by that motto. Our extensive collection of Wedding Rings is not an exception. We offer only the finest designs, whether they are as simple as a classic gold wedding ring, or as striking as an eternity diamond ring. At 25karats, you can shop our wide variety of premium, high-quality, hand-crafted wedding rings that you and your partner need to express your lifelong love and commitment to each other. Browse now and start shopping right away.
We Offer A Wide Variety of Unique Matching Wedding Bands
No matter your taste, preferences, or unique situation, we've got a set of wedding bands that are right for you, with gold rings for men, women, and people of any gender or walk of life who are ready to make the ultimate expression of their love and commitment to one another.
Our wide selection of wedding rings includes antique design wedding rings, religious wedding bands, diamond wedding bands for men and women and Celtic wedding rings. We use only the highest quality metals and diamonds for your order! All our wedding rings are available in 14K and 18K Gold, as well as Platinum 950 and Palladium 950. Our diamonds are GH in color and SI1 in clarity.
From engagement rings to diamond anniversary rings, we offer bridal jewelry for couples of all types. Browse our collections; Gold Wedding Bands, Diamond Rings For Men & Women now to get started.
Why Choose 25karats? Understanding Our Difference
Made in the USA –Every ring we sell is handcrafted in New York for excellent quality and unparalleled beauty.
60-day returns & free shipping – Return it within 60 days for a full refund if you don't like your ring.
Eco-friendly jewelry – We use recycled precious metals in all of our wedding bands and other jewelry.
Conflict-free diamonds – Our diamonds are purchased from vendors who are certified through the Kimberly process and are 100% guaranteed conflict-free.
Made-to-order for the specifications you need - All of our wedding bands are made to order, not a stock ring altered to match the order.
Free engraving - You can have the special words inscribed inside your precious wedding bands, and create a timeless token of affection.
Free resizing – We want to you to have a hassle-free shopping experience. If your ring doesn't fit well, no worries, we resize it for you free of charge.
Shop Today & Find The Wedding Bands That Are Right For You
At 25karats.com, we strive to offer you the best customer service experience and our professional wedding band experts will help you choose the band you always dreamed of. If you're interested in wedding rings for sale, look no further than 25karats. Check out our huge selection of wedding rings and bands.