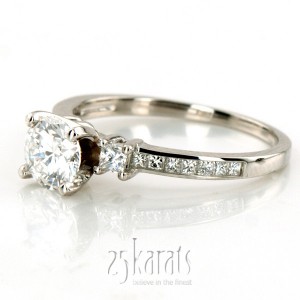 SNDUYKP88KPB When it comes to diamond engagement rings, there's no denying that they can be a considerable drain on your bank account. But if you're not willing to sacrifice on style and quality, it might seem like the only option left is to bite the bullet and whip out than credit card…
Or is it?
Whether you're the one doing the proposing, or you stumbled across this article because you're looking for a subtle way to hint at your boyfriend (ahem) that you're ready to walk down the aisle, here are a few diamond engagement ideas that won't break the bank.
After all, you'll need all that money for your upcoming wedding!
1. Put your feelers out there and see if you have any friends or family members who work in the jewelry industry. Jewelers get great discount rates on diamond engagement rings, meaning you'll benefit from having that sweet connection. If your search turns up empty, don't be afraid to enlist a few trusted friends to see if they have any contacts themselves. You'll never know who will turn up – and how much money you could potentially save on a diamond engagement rings.
2. Skip traditional jewelers in favor for online vendors. Not only do online vendors offer far more diamond engagement rings (read: more budget options), but many also offer better deals than chain stores and independent jewelers. Be sure that the vendor you shop with offers exceptional customer service in case you need to return the diamond ring. If you're not sure, send an email to the vendor and search online for what other customers have to say about that particular company.
3. Be sure to pay careful attention to the cut and style of the diamond engagement rings. Many cuts can make larger diamonds look smaller, while some can make smaller diamonds look positively Kim Kardashian-worthy. If you're on a budget, try looking for an Asscher-cut diamond engagement ring instead of a princess cut, or opt for a single solitaire diamond on a slender palladium or white gold band (both metals resemble platinum, but are far cheaper). You'll be amazed at what you can buy on a budget.
Remember, you don't need the budget of a billionaire to buy your dream diamond engagement rings. These creative techniques will help you get the ring you deserve – and at a price that won't make for a bare bones wedding!