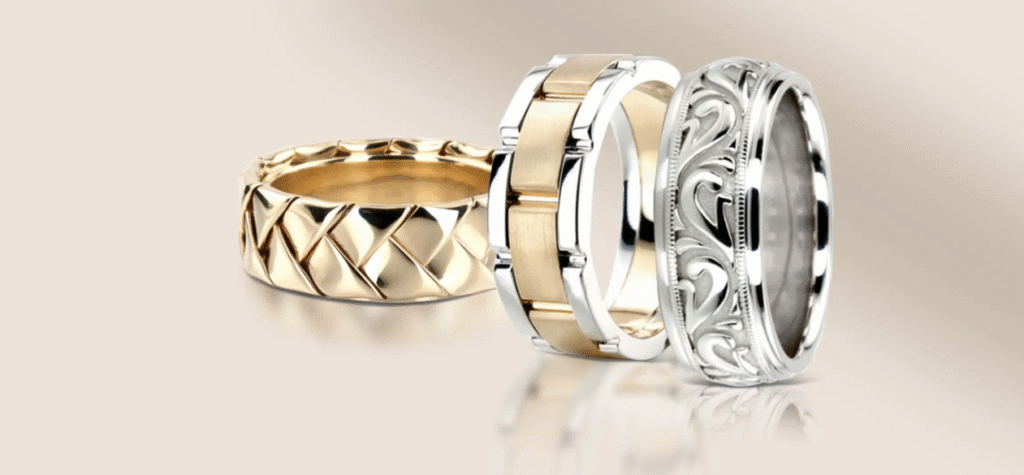 What kind of man wedding ring trends do we expect to see in 2023?
The answer is simple, yet profound.
The wedding ring has been around since ancient times, and it has evolved over time. Rings come in various shapes, sizes, materials, and designs. They also serve a variety of purposes, such as showing commitment, symbolizing love, or even protecting against evil spirits.
As the wedding season approaches, couples are looking forward to exchanging vows and rings. In addition to choosing the perfect ring, they want to look good wearing it. This means that men should consider some new trends before tying the knot.
What's the #1 Men's Wedding Bands Trend This Year?
So far, 2023 is shaping up to be the year of individuality, and it really shouldn't be a surprise.
If you think about it, in recent years, more and more people have been bucking the norm. It's not that people no longer like tradition. Rather, people are coming up with new traditions that are meaningful to them.
So what does this have to do with wedding rings? Well, the traditional favorite used to be the classic gold wedding band. Now, that's not necessarily the case. Some of the most popular men's wedding band styles include, but are not limited to:
It can be tempting to pick out a wedding ring based on what's trending or what's hot, but the most important thing for couples is to find a ring that is meaningful to them. Every couple has a story, and it's important that your ring represents your love story together.
What Does Your Ring Say About You?
Every man wants his wedding ring to say something special about him. If you're considering buying a new ring, here are a few things to keep in mind when selecting yours:
Your ring should match your personality.
You don't need to spend a fortune to get a great-looking ring. A beautiful diamond will always make an impression. But if you want to go beyond diamonds, there are many other options available. For example, you could choose a titanium ring, which looks just as nice as a solid gold one. Or perhaps you'd prefer a platinum ring instead.
You should select a design that reflects who you are.
There are so many different types of men's wedding bands available today. From vintage to modern, there's a style for every type of guy. When you're shopping for your wedding ring, take into account how you feel about each option. Do you like the idea of having a unique ring? Is a bold color appealing to you? Maybe you'd rather stick with classic silver or white gold. Whatever you decide, make sure that your wedding ring says something about you.
When you're ready to buy a men's wedding ring, it's best to wait until after you've set a date. That way, you'll know exactly what size and shape you want.
At 25karats, we have the best selection of men's wedding bands. We can't wait to help you find yours!