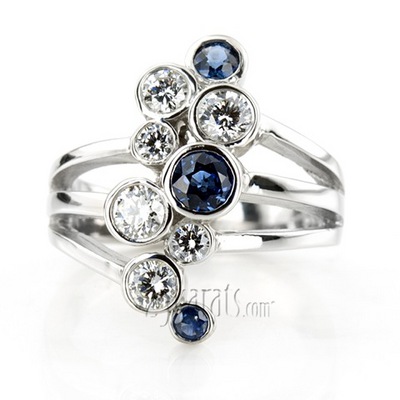 It seems like every little girl has dreamed of what a certain diamond ring will look like on her left hand – and you're certainly one of them. From the moment you were big enough to flip through the pages of magazines, you've been planning out your wedding and dreaming of the moment when you get to say "I do" to that special someone.
Whether you've already found that special someone or you're still enjoying being single, you don't have to wait for that walk down the aisle to sport some serious diamond jewelry on your hands. In fact, a recent trend is rocking the diamond jewelry world – and if you have something to celebrate, then you just might be interested in the right-hand diamond ring.
If you've never heard of the right-hand ring, then sit back, relax, and get ready to learn about a jewelry trend that celebrates your fabulous independence and unique style.
How the Right-Hand Diamond Ring Trend Took Off
It used to be that diamond rings were reserved for women who were engaged or already married. However, there's no denying that the modern woman doesn't always want to wait for the perfect man to walk into her life. Sometimes she wants to wear some serious bling – and she wants to go out there and get it herself.
That's exactly where right-hand diamond rings come into play. The right-hand diamond ring may look similar to a diamond engagement ring, but it's so much more than that. Right-hand diamond rings celebrate a woman's independence and status by telling the world she doesn't have to wait to be married to buy her own rock. In a way, buying yourself a right-hand diamond ring is akin to marrying yourself – just like that infamous episode of "Sex and the City" where Carrie registers for her wedding to herself!
If you want to pick the perfect right-hand diamond ring, be sure to look for a style that's all your own. The great thing about right-hand rings is that there are so many styles out there for you to choose from. This ring is all about you, so don't let any trend influence. Pick a ring that you think best represents your unique personality and style.
When you're ready to show the world that you've got it made – without having to get married – then it's time to look into purchasing a gorgeous right-hand diamond ring!