For a very long time, men's wedding rings have been simple, precious metal bands with no stones. While simplicity is never out of fashion, in today's age men are embracing diamond setting more and more for their wedding bands. Men have also started wearing engagement rings, as their partners do, to celebrate the great importance of such a romantic and deep commitment to the person they love.
Men's diamond ring settings are harder to choose than a woman's ring, because a masculine ring should keep a certain simplicity and a bolder structure to it. Most popular choices include men's solitaire diamond ring settings, channel settings or fancy cut diamond rings.
Having precious stones on your wedding rings helps create a unique, matching wedding ring set for your big day. You can also complement the design of the rings by choosing certain color schemes or adding similar accents in your wedding decor. Today's jewelry designers and expert jewelers know that innovative design and a fresh view on traditions are what brings joy and color in one's life, creating memories to last a lifetime.
• Learn about the most popular men's diamond rings that are out there today. One of the most popular settings for a man's diamond ring is the channel setting, as it blends together smaller diamonds for a luxurious yet masculine look. A channel setting places smaller diamonds in a line across the ring, which is surrounding by the band itself. Channel settings can go all the way around the band, or they can be as small as a three-stone channel setting ring. These bands are perfect for men who work with their hands, as the channel setting secures the diamonds in a way that's much more stable and durable.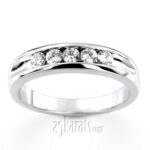 • Solitaire diamond rings are also popular for men, but don't confuse them with the solitaire diamond engagement rings that are available for women. Solitaire rings – also commonly referred to as tension settings – has a single diamond that's affixed in the middle of the ring's band. It may look like it's floating in the middle of the ring, but it's very stable and solid. This is a trendy and highly fashionable ring, which is perfect for the man who wants to stand out from the crowd.
• If you're looking for a men's diamond ring that has nothing to do with weddings and engagements, consider getting a fancy cut diamond ring. These blinged-out settings pack a serious punch, as they combine numerous small diamonds to make an amazing statement. These are perfect for trend-setting men who aren't afraid to sport a lot of glamorous diamonds on their hands.
These are the best settings for men's diamond rings, as they're stable, fashionable, and extremely durable. There are many additional settings for men's diamond rings, so visit 25karats.com to discover them all!