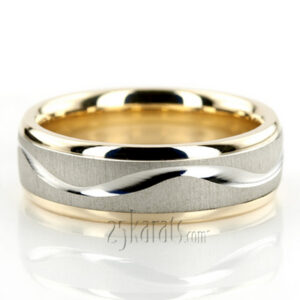 After saving for two months to give your fiancée the dream engagement ring she deserves, you might be feeling a little strapped for cash. Add to the fact that you have to put aside thousands of dollars for wedding planning, and you might be starting to think that you won't have any money to buy your wedding bands.
While your wallet may be feeling a little emptier as of late, that doesn't mean you have to give up on getting your dream wedding rings. In fact, there are plenty of steps you can take to ensure that you get a wedding band that will last you and your sweetheart for the rest of your lives together.
If you're wondering if you can afford a wedding band, take a look at these helpful how-to's:
• Look at your total wedding budget and see what you can put towards your wedding band. Have an honest discussion with your fiancée to see how much you can afford to spend. For example, if you want to spend more on your reception and honeymoon, you might need to cut back on the total cost of your wedding bands. If you're having a small ceremony, you might have a little more money to spend. Once you've set the budget for your wedding bands, stick to it.
• It's important to understand that the metal you select will determine the total cost of your wedding ring. If you want a wedding band that's going to last for decades, it's best to make the investment now in platinum wedding rings, as they'll be able to withstand the wear and tear of everyday life. If you don't have the money to buy platinum wedding bands now, consider investing in a white-gold wedding band and upgrading at a later time when you and your spouse have more money.
• If you still don't think you'll be able to afford a wedding band, consider looking for antique rings or heirloom bands at real estate sales, flea markets, or just in the family. This is a great way to save money on your wedding jewelry while opting into the vintage look, which is one of the biggest trends of this year. Don't worry if a ring isn't exactly your size; you can always get it resized at a jewelry retailer, which is an inexpensive service.
Remember that your wedding band symbolizes the love and unique relationship between you and your spouse. Therefore, don't get too stuck on the price tag of your wedding ring; just be grateful that you've found the love of your life.