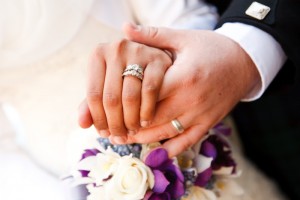 Traditionally, the ring finger on the left hand has always been the location for a wedding band. Stemming from a Tudor belief from the 16th-century, the left-handed ring finger was believed to be connected to the heart by a vein; therefore, wearing a ring on that finger signified to the world that the wearer had a "claim to their heart" in the form of a fiancé or a husband (men didn't start to wear wedding rings until centuries later).
However, just as the ring finger on the left hand signifies love, fidelity and monogamy, the ring finger on the right hand has also developed a code of its own. As the new millennium approached, diamond rings began to suddenly shift to the right hand – and the multiple meanings behind this shift are fascinating.
If you're still not sure what it means to wear a wedding ring on your right hand, then take a look at 25karats.com's quick guide to the meanings behind the right-handed ring:
Economic Independence. As female workers began to out-earn men, women finally had the kind of income that allowed them to buy diamond rings for themselves. Today, a woman doesn't have to wait for an engagement ring from her boyfriend in order to don a gorgeous diamond ring – she simply can buy a right-handed ring and wear it proudly as a signifier of her economic independence.
Gay and Lesbian Marriage. Instead of wearing wedding bands on their left hands, gay and lesbian couples often choose to wear rings on their right hands instead. Within gay and lesbian communities, the right-handed ring is an instantly recognizable marker of a monogamous relationship, and even marriage within the states that have legalized it.
Family Heirlooms. Wedding rings carry enormous sentimental value, so it's no surprise that many people choose to wear these heirlooms as opposed to letting it gather dust in a box or a safe. By wearing the heirloom on the right hand, the wearer can be constantly reminded of tradition, family values and the importance of intergenerational connections.
Infidelity. Married men and women don't have to resort to hiding their wedding rings in order to cheat on a spouse; shockingly, many people believe that switching a wedding band from the left to the right hand is a code that signifies an openness to cheating on their mate or spouse.
Differences In Culture. Not all cultures believe that the wedding ring should be placed on the left hand. In countries like Poland, Greece, India and Colombia, the wedding band belongs on the right hand, not the left.
Left-Handedness. Finally, wearing a wedding ring on the right hand can simply mean that the wearer is left-handed and doesn't want his or her ring to be subjected to the wear and tear from their dominant hand.
As you can see, the ways in which one can wear a wedding band is as diverse as wedding ring styles themselves!