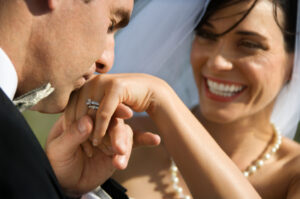 You've done it: you found the woman who you want to spend the rest of your life with. Everything she does makes you happy – and when it comes to your future, she's a huge part of it.
That's why you're ready to make it official by getting down on one knee and offering her your heart, soul and a gorgeous diamond engagement ring!
But wait – don't get down on that knee just yet! To your girlfriend, a wedding proposal is more than the affirmation of her love wanting to spend the rest of his life with her; it's a moment she's been dreaming of since she was a little girl. That's why you want to ensure that your wedding proposal doesn't just live up to her expectations…
…It exceeds them!
Think of this as the ultimate cheat sheet for a wedding proposal that's so inspiring, memorable and downright romantic that she'll be guaranteed to say yes!
Make It About Her. What's the number one mistake that most men make when they propose to their sweethearts? They don't make it about her. Sure, she may think that a wedding proposal will be romantic no matter what – but if you really want to take her breath away, then you need to tailor the wedding proposal to her tastes, interests and passions. Does she love adventure travel? Propose to her while bungee-jumping. Is she passionate about cooking? Cook her up a sumptuous feast and place the engagement ring on top of her dessert. Tailoring the proposal to her tastes and interests shows her that you've always been attentive to her interests…
…And you will be for the rest of your lives together!
And About You Too! Of course, your wedding proposal should fit your tastes and personality as well. For example, if you've never donned a suit in your life, then don't whisk her away to a fancy five-star restaurant for her proposal (she'll suspect something!). Similarly, if you're a formal kind of guy, then by all means, have a formal kind of proposal. The point is that your wedding proposal should be about you and your sweetheart as a couple: your likes, dislikes, and those special moments that stand out for the both of you.
Pick a Special Day. Anniversaries, holidays and birthdays are too obvious – instead, why not propose to the love of your life on the day of your first kiss, or the day when you both finally said "I love you" to each other? It's a smooth move that'll blow your future wife over; not to mention land you a reputation as a master Casanova!
Choose the Right Ring. The cherry on top of your wedding proposal should always be a gorgeous and unique diamond engagement ring. Like with the proposal, make sure that it fits the personality and tastes of your bride-to-be: if she's has traditional tastes, then a diamond solitaire engagement ring makes a perfect choice. Likes to be pampered? Then a gorgeous diamond engagement ring with side stones makes the perfect choice to woo your sweetheart.
No matter what shape or form your wedding proposal takes, why not let 25karats help you to choose
the perfect diamond engagement ring? With our factory-direct prices, wide variety of rings and superior customer service, choosing a unique and perfect diamond engagement ring has never been easier!