So you want to buy a ring…
Whether you are purchasing an engagement ring, wedding band, or anniversary ring, the most important step is to measure your ring size. If you don't know your finger size, then it will be impossible to find a ring that fits perfectly on your hand, especially if you're shopping for rings online.
Here's the good news: you no longer have to visit a jewelry store in-person to measure ring size.
You can confidently and accurately measure your ring size from the comfort of your home.
4 Ways to Measure Ring Size at Home
Any one of the following methods will help you accurately determine your ring size.
You can even try multiple methods to double check your measurements to ensure the most comfortable fit.
Use a ring that fits.

If you already have a ring, use it as a guide when measuring your own finger size. Does the ring still fit perfectly? Then confidently order your new ring in the same size! However, if the ring is a little loose or a little tight, then you might want to consider moving half a size in either direction.
If you are not sure about the finger size of your existing ring, measure the inside diameter of your ring. Then, match the measurement with the finger size in our ring size chart to find your ring size.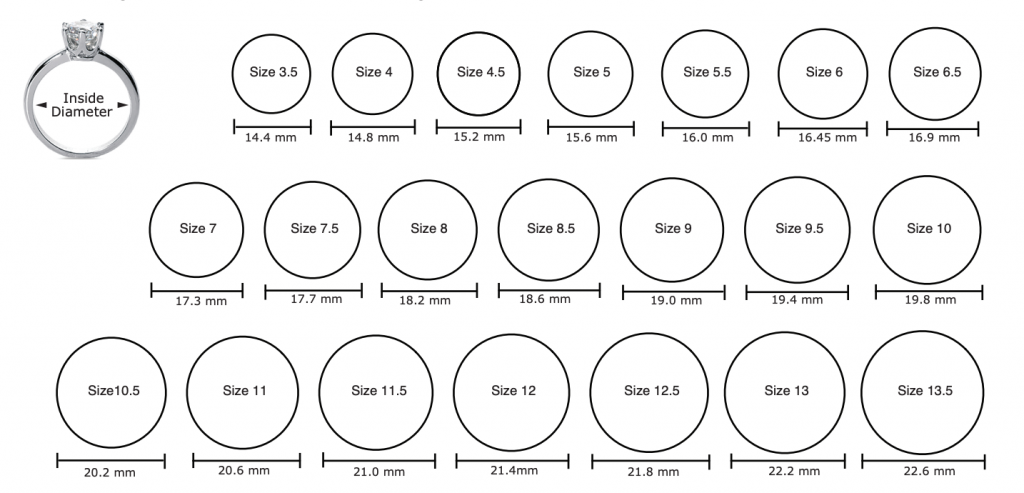 Request a free ring sizer.

At 25karats, we understand how critical it is to accurately measure ring size. This is why we will send you a FREE ring sizer. Simply fill out the form on this page, and we will send a ring sizer directly to your home (available for the United States and Canada only).
Use a String and Ruler.

To measure your ring size using a string and ruler, wrap a piece of string around the base of your ring finger. Use a marker or pen to mark where the string fully wraps around your finger. Next, pull the string tightly against the edge of a ruler. Wherever the mark on the string hits on the ruler, that is your finger size! Be sure to measure in millimeters (mm). You can then use our ring size chart to determine your ring size.


Convert from other units.

Do you know your ring size in other units? Different countries use different units of measurement, which results in different ring sizes. European sizes, for example, tend to use numbers that are larger than the sizes in the US and Canada. If you were to order a ring in the US using a European size, then your ring would be far too big. To avoid this issue, use our ring size chart to make the appropriate conversion. We make it as easy as possible!
At 25karats, we want your online ring shopping experience to be as seamless and easy as possible!
In addition to sending you a free ring sizer, we also offer the best online shopping experience in the wedding ring industry. Our 60-day return policy ensures that you will have peace of mind knowing that you can find the perfect fit. Oh, and did we mention that we also offer free shipping?!
If you use any of the four methods above, we are confident that you will be able to find the perfect ring for you and your loved one!