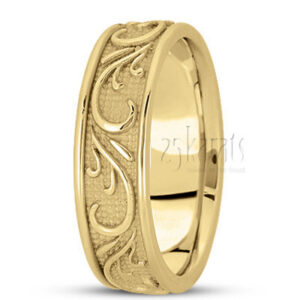 If as a couple, you are a connoisseur of vintage craft or take interest in the traditional way of things, an antique wedding band is the perfect marriage jewelry set for you. With a lot of neo-age trends surfacing with the New Year, you will not find your options restricted while looking for such vintage rings. For those who take delight in the fusion of the classic and the trendy, platinum has become a hot favorite as far as jewelry for marriage or engagement events are concerned.
However, you need to keep some points in mind while looking for the ideal antique wedding bands to avoid a wrong purchase decision. Listed below are 5 such factors that may influence the worth of your buy:
1. Style – Judge the style of the antique wedding band before you start shopping around. Styles may vary according to the era that the ring may belong to. Styles range from Victorian era multiple stoned rings to channeled styles, from 'S' shaped arrangement of colored gemstones to solitaires. Choose the one that reflects your partner's personality best.
2. Budget – Outline your budget and stick to it, despite lucrative offers. A lot of us fail to designate a budget for our marriage accessories. And this is the segment of people who end up spending much more than what they would have ideally wanted to.
3. Material – While choosing an antique wedding band, select a material that would suit both your budget as well as your partner's personality. Therefore, while the yellow gold can be kept for the flashy personas, platinum or white gold can blend well with sober characters.
4. Stones – Make sure that the gemstones or diamonds mounted on the vintage ring are authentic and complement each other. Antique wedding bands most often use colored gemstones. Therefore make sure that these match your personality. If diamonds have been used, the carat weight, clarity and cut should be verified before making the buy.
5. Condition of the Ring – This rule applies specifically to vintage jewelry sets. The condition of an antique wedding band should be verified (with the help of an industry expert, if possible). Apart from the regular corrosion that the ring may have experienced, issues such as placement of the stones, the clarity of the gems and dullness in the metal color should all be cleared before making the final purchase.
These tips will keep you in good stead as far as finding the right piece of vintage jewelry for your marriage is concerned.
The best option while shopping for your big day is to look for engagement or marriage rings online. Authentic dealer sites like '25Karats.com' provide with an enormous number of antique wedding bands to choose from, all of which are priced within a reasonable range.