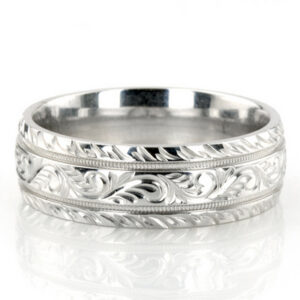 There's no denying that when it comes to ring shopping, all eyes are on engagement rings. But wedding band shopping – especially for palladium rings – can be just as exciting, if not more rewarding. After all, both you and your sweetheart can enjoy this journey together – and as your wedding ceremony draws near, it's a great way to take some time and appreciate such a wonderful occasion.
As sweet as the journey may be, however, there's no denying that shopping for a palladium wedding band can be just as stressful as the search for the perfect engagement ring. But that's only if you don't know what you're doing!
With this in mind, we've come up with the exact steps you must follow when learning how to shop for a palladium wedding band.
Find Your Perfect Style Ahead of Time: Knowing your dream wedding bands ahead of time is not only crucial for stressed-out couples who are planning their wedding ceremonies; it's also vital for avoiding those shopping-induced headaches! Sure, it's a nice idea in theory to wade through thousands of palladium wedding band styles. But unless you have oodles of time and energy to spare, skip the uncertainty and do some research on your dream palladium wedding band ahead of time.
Come Up with a Budget: Fortunately, palladium wedding bands are much less expensive than their platinum counterparts. But for budget-conscious couples, this doesn't mean you shouldn't do a bit of preparing. Come up with a budget for how much you'd like to spend. Be sure to have a specific number in mind, so you won't be tempted to stretch your budget. After all, you don't want to start your new life with wedding ring debt, do you?
Consider Buying Online: Palladium wedding bands are available from a variety of online retailers, which means you'll save a great deal of money on your ring shopping. Look for an online retailer that offers a generous return policy in case one of the rings doesn't fit. One important note: if you're shopping online, be sure to leave plenty of time before your wedding ceremony. This way, you'll have time to make any returns or adjustments to your palladium wedding bands should you need them.
Shopping for palladium wedding bands will be an exciting moment in you and your sweetheart's wedding preparations. Be sure to take a moment to enjoy this special time!