When it comes to the process of saying "I do," it's easy to let your diamond engagement ring steal the thunder from your wedding bands. For many decades, wedding bands have been approached as a complementary ring to the sparkling diamond engagement ring, thanks to their laid-back appearances and often plain designs.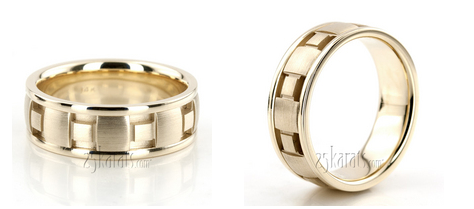 However, 2013 is set to change to change all that by introducing new wedding ring styles. These types of wedding bands are so unique and gorgeous that they're starting to steal the spotlight back from diamond engagement rings. So if you're ready for a show-stopping ceremony that people will talk about for years to come, consider integrating one of the best wedding ring styles of 2013 into your wedding:
Vintage Wedding Bands: Heirloom and vintage wedding bands are becoming the biggest trend for 2013, thanks to the rising popularity of vintage and traditional wedding ceremonies. This is a perfect touch for the bride who loves the look and feel of traditional jewelry, or simply wants to honor her family by incorporating an heirloom wedding band into her ceremony.
If you want to opt for the vintage wedding band look but you don't have an heirloom ring, look for wedding bands that feature tiny diamonds, raised beaded edges, and scroll-like engravings around the band.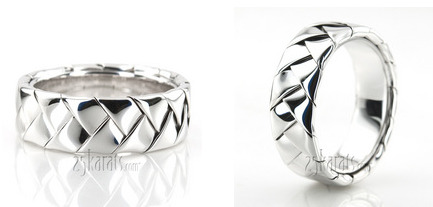 Custom Designed Wedding Bands: Modern couples are looking to incorporate their own styles and ideas into their wedding bands, which means custom designed jewelry has become a big trend for 2013. If you have a specific design you've always wanted to wear on your ring finger, look for a jewelry retailer who offers in-house custom design jewelry services. This service should provide you with multiple milestones where you can review the ring before approving the final product.
Colored Stones: The Kate-and-William effect is still in full swing; however, 2013 has seen the popularity of colored stones move from engagement rings to wedding bands. Canary diamonds, blue sapphires, and even pink diamonds are being incorporated into wedding bands, which is perfect for the bride that wants to stand out from the crowd. If you want to make your colored stones look more modern, opt for a four-prong setting or tension setting, which will highlight your beautiful stone without making it look like costume jewelry.
Let 2013 be the year that you embrace some of the most unique and surprising wedding band styles to come out in decades!