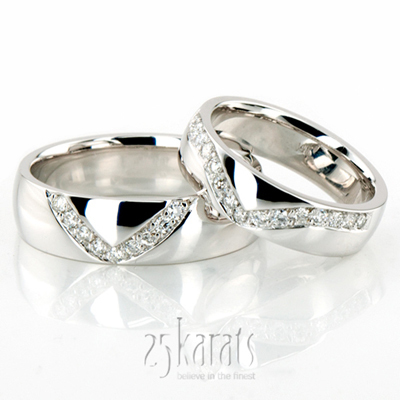 Love knows no boundaries – and as a LBGT couple, you want the world to know that you've finally found the person you want to spend the rest of your life with.
However, you don't want to settle for any diamond engagement rings or wedding bands. You want to find the perfect jewelry that reflects the uniqueness of your relationship, as well as signifies to the world that you're proud to be gay and married.
There are a number of new and exciting wedding band traditions popping up in LGBT marriages. Whether you opt to follow a more traditional route, or want to embrace these new traditions, here's what you need to know about LGBT wedding bands:
Forgo Diamonds for Gemstones
An exciting LGBT wedding tradition involves the use of gemstones in wedding bands, as opposed to diamonds. The reasoning behind this is symbol: using multi-colored gemstones throughout the band of the wedding ring evokes the rainbow colors contained within the Gay Pride flag. Gemstones also allow you to customize your wedding band without breaking the bank – meaning you'll have more money to spend on your ceremony.
Of course, you don't have to use gemstones in your wedding band. Plenty of LGBT couples opt for traditional diamond wedding bands, as they enjoy the look and feel of sparkling jewelry on their ring fingers.
Gay Symbols within Wedding Bands
LGBT wedding bands often incorporate multiple symbols to celebrate their relationship. For example, gay wedding bands often feature two intertwining Mars symbols, which is the classic symbol for masculinity. Lesbian wedding bands often feature triangle symbols. Other wedding bands are featured as "freedom rings", which involves six intertwined bands, each of which represents a color of the Gay Pride flag. This ring symbolizes the power of people coming together (both gay and straight) to fight for gay independence and rights.
Gay Wedding Bands and Placement
LGBT wedding bands are often worn on the right ring finger, as opposed to the ring finger of the left hand. This is a unique twist on the traditional placement of wedding bands, and has long been celebrated as a fundamental part of LGBT marriage culture.
Whether you're ready to celebrate your shared love or are just curious about LGBT wedding customs, this information will help you learn more about the wonderful world of LGBT wedding bands.
*LGBT: Lesbian, Gay, Bisexual and Transgender