A perfect wedding band shouldn't just represent the everlasting love between you and your sweetheart; it should also reflect your style, unique taste and individuality. And when your looking for the unique wedding band that you'll wear for the rest of your life, you'll want to make sure its as gorgeous and elegant as possible!
Wedding bands have continually evolved over the course of the last few decades – and 2010 is no exception! No matter what your taste or preference, you're sure to find the perfect wedding band in a style and metal type that's just right for you.
So if you're ready to pick the wedding band of your dreams, then you won't want to miss out on these hot wedding band trends for 2010 and beyond!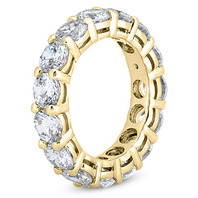 Diamond Eternity Wedding Bands. Diamond eternity wedding bands are the hot choice for 2010 – and if you want a touch of glamour and sparkle from your wedding ring, then this style is perfect for you! Diamonds surround the entire wedding band to represent the undying union between you and your love – not to mention an everlasting sparkle! Diamond eternity wedding bands can be ordered in any metal, but the diamonds look best set against a palladium or platinum setting.



Antique Wedding Rings. While many 2010 wedding band trends break away from conventional styles of previous years, many couples are choosing to uphold tradition by incorporating antique wedding bands in their ceremony. Whether they're family rings passed down through generations or simply from another time, antique wedding rings represent a popular selection for couples with more traditional tastes. Antique wedding ring styles are harder to come by than mainstream styles, but they represent a meaningful elegance that many other wedding bands don't possess.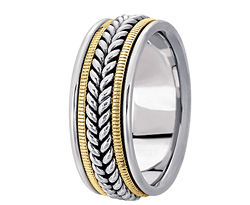 Handmade Wedding Bands. For the couple who won't accept anything less than an eclectic wedding ring, handmade wedding bands offer the perfect combination of uniqueness and elegance. Couples in 2010 expect their wedding bands to be as special as their union, which is why handmade wedding bands represent such a popular choice this year. Additionally, handmade wedding bands are expertly crafted by master jewelers and polished to a fine finish, ensuring that your wedding ring will always be at the center of attention!

Custom Creations. A wedding band should always represent your style and individuality – and what better way to do so than to design your own wedding band for 2010 and beyond? An expert jeweler can handcraft your wedding ring to fit whichever style you preference, in a metal type that suits your tastes. From 14K gold and platinum to tungsten carbide and titanium, your wedding band can dazzle and sparkle to your delight – it's entirely up to you and your loved one!
Hot wedding band trends for 2010 represent a year of individuality, elegance and refined style – so the only trend that you need to follow is the one that you set for yourself!