How to Buy a Wedding Ring: The Ultimate Guide
Congratulations!
You're officially engaged and the date is set for your wedding. This is an exciting time and a momentous milestone in your relationship.
While there are many ways to express your love for one another, one of the most fundamental symbols of your love is a wedding ring. The wedding ring you choose symbolizes not only your individuality, but also your identity as a couple.
Of course, there are countless options out there. The industry is so large that IBISWorld estimates the wedding industry in the United States alone generates $51.2 billion each year.
So that raises the question: how do you find the best wedding ring for you and your spouse? And how can you make sure you're getting a fair deal?
In this guide, we'll explore the different considerations to keep in mind when shopping for a wedding ring. If you've wondered how to buy a wedding ring, we'll guide you through every step of the process.
Here's what you need to know.
Understanding the Types of Wedding Band Precious Metals
When shopping for a wedding ring, one of the best places to start is to determine the material you would like the ring to be.
In most cases, wedding bands are crafted out of precious metals: yellow gold, white gold, rose gold, platinum, and palladium. Gold continues to be the most popular precious metal option for wedding bands. Every couple is different, so it ultimately comes down to your preference and budget. If you're unsure where to start, rest assured there's a precious metal for every couple — and their budget!
What's the Difference Between 14k and 18k Gold?
As you start shopping around for wedding bands, you'll begin to notice that there's the option between 14k and 18k gold. Most settings will offer this choice.
Contrary to popular belief, most wedding rings are not made out of pure gold. Gold itself is malleable, so to strengthen it to last a lifetime, it's mixed with other metals.
An easy rule of thumb is that the higher the number, the purer the gold.
For instance, 14K gold contains 58.3% gold and 41.7% other metals, which gives it extra strength.
On the other hand, 18K gold is purer, containing 75% gold and 25% metal alloys.
If you're unsure between 14K and 18K gold, ask yourself the following questions:
Does the purity of the gold matter to me and my spouse? If you want a wedding band that is purer in gold, then you'll want to opt for 18K gold.
Are we looking for a cheap wedding ring? Because 14K gold has less gold, it is more affordable while also boasting the warmth and benefits of a gold ring.
Does the durability of the ring matter? Are you willing to invest in maintenance? 18K gold wedding bands are more likely to scratch or dent a little more because of the higher gold content. If you work with your hands a lot, then you might want to consider a 14K gold wedding ring. However, if you're naturally more careful, then an 18K wedding ring could be worth it.
Yellow Gold or White Gold: Key Differences for Your Wedding Band
While there are many types of precious metals that can be used to create a wedding band, gold remains the popular choice for most couples.
This raises the question: what's the difference between yellow gold rings and white gold rings?
Let's begin with yellow gold.
Yellow gold is the closest to pure gold, though its tone and exact hue will depend on the type of metal alloys mixed with it as well as the percentage of each of them. In its purest form, gold itself is rich and shining yellow. It is full of luster.
There is 14K gold, 18K gold, and 24K gold. Remember, the higher the number, the purer the gold. With that being said, 14K gold may be a little muted because it has a higher percentage of metal alloys that dilute the brilliant gold color.
White gold is actually created from yellow gold. Specifically, white gold is really just yellow gold that has been combined with a white metal. The most common ones are palladium or nickel. This gives the yellow gold more of white hue, hence the name.
When left uncoated, white gold lacks the luster and shine of yellow gold, because of the metal alloy. Naturally, white gold looks more grey. In most cases, white gold is coated with a thin layer of rhodium, which brings out richer color and shine.
Platinum or Palladium: Key Differences for Your Wedding Band
Platinum. Unlike gold and silver, platinum does not tarnish. It is hypoallergenic and is much more durable than white gold. Platinum itself is rarer and mined less often than gold. This means that platinum is more expensive than the other types of wedding band metals. While platinum itself does not tarnish, it can get scratched and dull over time.
Palladium. As a member of the platinum family, palladium is a lightweight and hypoallergenic metal. It is a true white metal, meaning that it will maintain its white color forever. If you take a close look, you'll see that palladium bands are stamped with "Pall 950," so they are easy to identify. Palladium weighs less and costs less than platinum, though the two share several similarities in appearance.
In-Depth Wedding Band Design: Machine-Made Process vs. Hand Wax Carving
When it comes to making a wedding ring, there are two methods: a machine-made process and a hand wax carving.
It's not uncommon for large companies to begin with a CAD/CAM file. In fact, it's not just for wedding rings. Many jewelry companies use this process. Molds are then created from a modeling machine.
Some rings are also die-struck. Simple gold wedding bands, for example, are punched out of metal similar to the process for metal pots and pans.
In most cases, there's little or no hard work. The main handwork comes when it's time to set the gemstones.
Fortunately, if you want to have handmade wedding rings, there are still jewelers who are highly skilled wax carvers. Essentially, they work to create models by hand. The rings are then cast out using traditional lost wax casting techniques.
What are the Best Wedding Ring Styles?
There is a perfect wedding ring for every couple. No matter your taste or preference, there are different styles to show off your love and commitment to one another.
Our wide selection of wedding rings includes:
What Should the Width of My Wedding Ring Be?
The width of a ring is a measurement of how much length of a finger will be under the ring. For most ladies' rings, the width is between 2mm and 4mm. Most men's rings range from 4mm to 7mm wide. Of course, that is just a guide, and many couples make their own choices based on their own personal preference.
It's important to note that certain designs and styles will also impact the width of a ring. The stone setting or patterns, for instance, might require the width to be a specific size without room for variation.
How Thick Should My Gold Wedding Band Be
While there is no specific standard for ring thickness, medium thickness is considered to be in the 1.6mm to 2.0mm range.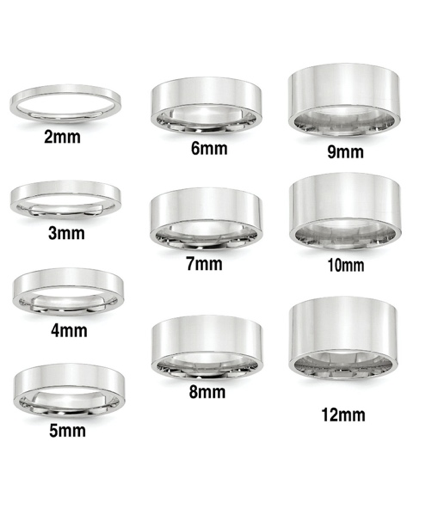 What is Metal Finish on a Ring?
The finish on a wedding ring refers to the final surface treatment. This finish is what gives the ring a distinctive look and character by reflecting light. For example, a polished finish will result in a wedding ring that has a shiny, reflective surface. On the other hand, a matte finish is softer and less reflective. This is due to the light emery applied over the surface of the ring.
Additionally, one of the characteristics of a wedding ring is its texture. It's not uncommon for rings to have more than one finish, such a combination of shiny and matte finishes. This creates a striking contrast. Still, the main finish option is almost always the center finish of the ring.
It's important to note that the finish of a ring will not last forever. Like most other pieces of jewelry, wear and tear will scratch off the finish of the ring. Because the ring is meant to be worn daily, it is not unlikely for a polished ring to become less polished over time. Even a matte ring will become less matte.
The good news is that the finish of the ring can be redone. It only costs a small fee when you bring your ring in for an inspection and cleaning.
The image below shows the different finishes and what you can expect them to look like.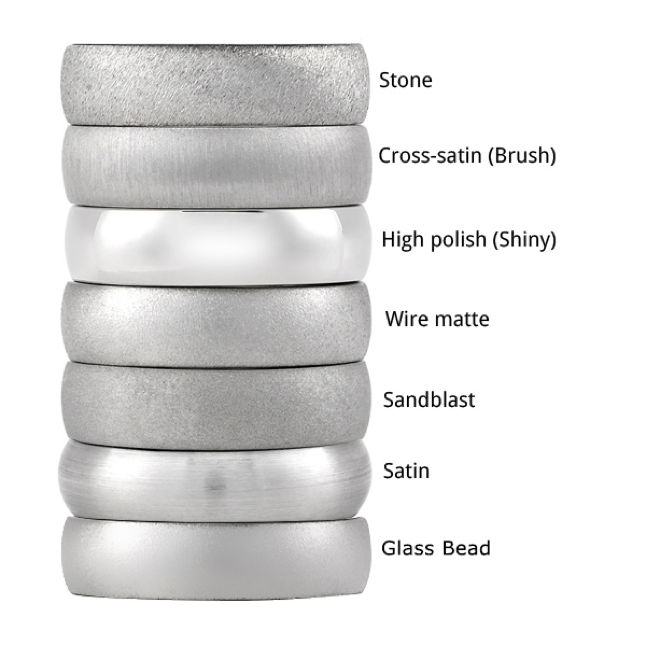 Should My Fiancé and I Get Matching Wedding Rings?
When couples ask how to buy a wedding ring, they often wonder if it's better to get a matching ring set or to get a ring based on their own personal preferences.
The answer?
It's completely up to you and what you decide as a couple.
On the one hand (pun intended), choosing a matching wedding ring set is a sentimental and symbolic way to showcase your relationship. Matching bands aren't necessarily identical rings. They are often the same metal, design, and style, but they still have different widths for each partner's hands.
On the other hand, both people in the relationship are fully realized individuals with their own styles and wants. One ring that's perfect for one person might not suit the other person. In this case, it's likely a better bet to choose a ring that suits the respective wearer.
Is It Possible to Resize a Gold Wedding Band?
Yes, it is possible to resize a gold wedding ring.
However, it's important to understand the process of resizing a ring. In order to resize a ring, the ring often needs to be cut so that metal can be added or removed. If only slight stretching or shrinking is needed, this can be done quickly and mechanically without needing to cut the ring itself.
What does this mean?
It's much easier to resize a simple gold wedding band. Rings with diamonds and gems are more difficult to resize, though it can be accomplished with a different process. The challenge is that the inset gemstones typically loosen during the resizing process. This sometimes means that a new ring needs to be made for the desired resize.
The best solution is to make sure the wedding band is sized as appropriately as possible.
Here are a few tips:
Measure your ring size with a real ring or a metal/plastic ring sizer. These are more accurate than a paper chart or a thread, which can be up to one size or more off.
Your fingers may vary in size based on the season, hour of the day, your hydration levels, your body temperature, whether or not you just worked out, etc. Because of these variations, it's recommended to check your ring size again at some other time.
If you decide to go with a wide wedding band (6mm +), it's recommended to order a half size up from your actual size. Why? Wide bands are more difficult to pass over the knuckle, so a slightly larger ring can help.
Well-intentioned advisors often tell couples to order a quarter size smaller for comfort fit. However, we recommend ordering your exact size because we measure our rings accordingly.
If you are unable to go to a local jewelry store or measure your size with a metal/plastic ring sizer, contact us and we will send you a complimentary sizer.
How Much Does a Wedding Band Cost?
There are wedding rings in every style and price range for every couple. Depending on the style and type of precious metal used, wedding rings can cost between $150 to $25,000.
Who Should Buy the Wedding Ring?
To showcase love for one another, it is tradition for the groom to buy the wedding band for his bride and for the bride to buy the wedding band for the groom. This symbolizes love and commitment that each partner exchanges to each other on their wedding day.
While that is tradition, couples are free to buy their wedding bands however they want.
For example, if you have a shared bank account or are sharing the costs of the wedding, it might feel more appropriate to buy the wedding rings together.
Ultimately, your marriage is an extremely personal journey and commitment. It's up to you and your partner to decide how you would like to buy the rings.