Stud earrings are the perfect Valentine's Day gift for good reason: instead of giving the same old bouquet of roses and expensive dinner dates (how unoriginal!), diamond stud earrings represent a bold and unique fashion choice that is sure to delight your loved one.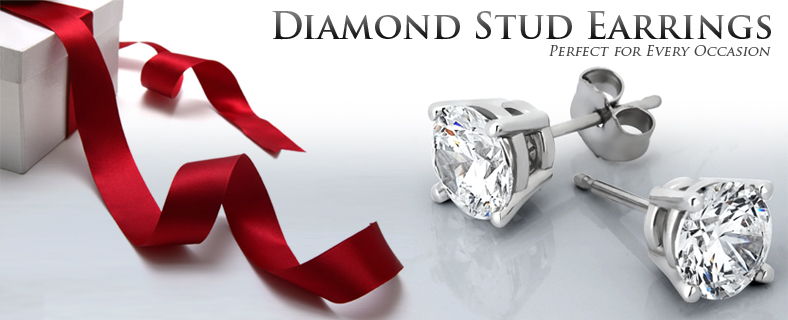 In fact, diamond stud earrings represent the best of both worlds. They're not as expensive or as solemn as giving a diamond ring (unless you're ready to get engaged, of course!), but they certainly let your loved one know that you're head over heels for them.
Looking for a gift for your mother or sister? That's not a problem: diamond stud earrings represent a fantastic gift for any of the special ladies in your life. That's one of the biggest advantages of diamond stud earrings; they're gorgeous and romantic, yet flexible enough to be given as a gift within a more platonic relationship.
If you're looking to give the gift of diamond stud earrings this Valentine's Day, here's what you need to know to enhance your shopping experience:
• Keep in mind that diamond stud earrings come in an array of styles. Therefore, if you want to avoid the headache that's brought on by encountering a diverse range of diamond earring styles, research online to see what style would sparkle on your special someone's ears. You can choose from a wide variety of unique styles, including four prong round, four-prong princess, bezel set, martini and dangle studs.
• Research the quality and type of diamond that you'd like to be featured on your honey's stud earrings. Many jewelry retailers make it possible for you to select the grade of diamond used within the stud earrings. If you have more wiggle room in your budget, you could get flawless diamonds; if you need to stay within budget this Valentine's Day, you can opt for a more affordable diamond grade. No matter which option you choose, you can be sure your diamond stud earrings will shine.
• Buying your diamond stud earrings online? Be sure to buy from an online jewelry retailer that offers a refund policy and secure shipping. This way, you can protect your purchase and get the peace of mind that comes from knowing your diamond stud earrings will arrive right on time.
This Valentine's Day, don't give the predictable gift of chocolates and flowers. Dazzle her with diamond stud earrings instead!