A diamond on its own is beautiful, but its ring mounting or setting is what truly defines it. Basically, a ring mounting is how the central stone and its design details are placed. You want to choose the right one for your diamond so that the effect is spectacular.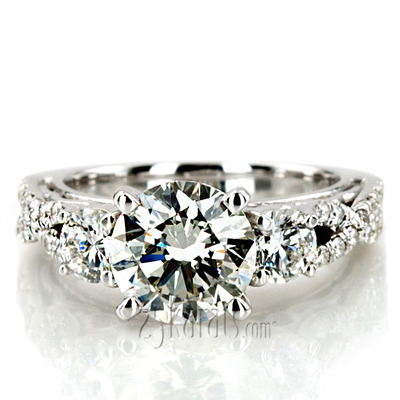 Shine a Spotlight on Your Diamond
A ring can sparkle and look beautiful even if it has a small central diamond. It's about style, not size! By choosing the right ring mounting for your central stone you can uplift even the most demure diamonds by bringing enough light to shine on them.
If you have a small central stone, consider using a channel setting – this is when smaller stones run along both sides of the ring, creating more brilliance.
If you want to create more focus on a large central diamond, choose an elevated mounting design, called a head setting, to make the ring look brighter. It makes use of metal claws that hold the diamond up to the light.
Choose the Right Metal
The metal band of your ring should not only look stylish but also be able to support the diamonds you've chosen.  Platinum and titanium are very strong and will not get scuffed or damaged easily. Lower karat golds and silver, on the other hand, are usually weaker. Consider this when choosing a ring so that your ring's setting will stand the test of time.
If you want more bling on your metal, consider a pavé diamond setting which covers the metal band with small diamonds. You can choose to do this halfway (a half-pavé) or all around the ring (full-pavé). The halo diamond setting is a popular form of this setting, with diamonds surrounding the central stone.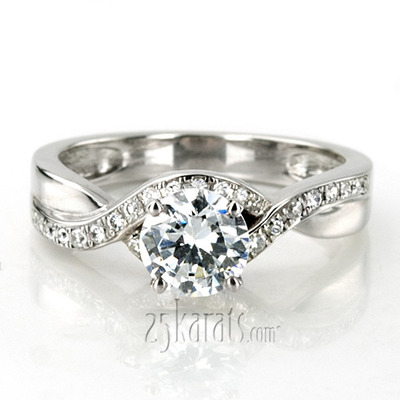 Sparkle to the Power of Three
Do you like the idea of having three stones on your ring: one central one and one on either side of it? This is a common style and it gives you a chance to be creative with your ring design because you can choose gemstones as the side stones. This is also a great way to give the central stone more dazzle and can be used in a romantic way: the three diamonds could represent your past, present, and future as a couple.
You could use diamonds of different shapes, such as a central pear-shaped diamond flanked by two smaller ones for increased visual appeal.
If you don't want any metal of the ring's band to show, choose an invisible setting. This places the diamonds in such a way to create a flowing, continuous design.
If your central stone is already flashy, be careful when choosing side stones. These might take the focus away from your brilliant diamond, which you definitely don't want.
Know the Pros and Cons of Popular Mountings
To ensure that you make the right choice for your ring mounting, you need to know the pros and cons of some popular types of mountings.
Prong setting: While they're safe and elevate your diamond so it can look more glamorous, prong settings need to be cared for. You should have them checked regularly to ensure the prongs are not loosening. If you use your hands a lot, note that prong settings can put your diamond at greater risk because it's up in the air. To offset this, choose platinum prongs which are stronger than other metals.
Channel setting: This makes your ring look stunning and fills it up with extra diamonds along the band. It's worth noting that channel settings can cost more, especially if they make use of lots of smaller diamonds or gemstones.
Invisible and Pavé settings: The diamonds elegantly look like they are continuous in these settings, without a break of metal in-between them. However, they can be risky because the diamonds tend to become looser than with other mounting styles so perhaps they're best for an anniversary wedding ring that you can wear on special occasions instead of daily.
Bezel setting: this is great for people who have active lifestyles or are very hands-on because the diamonds are held securely in place by metal that surrounds them. The setting can work in various styles, from contemporary to vintage. However, your ring might lack some light because the diamond is surrounded by lots of metal. It's therefore a good choice if you want more metal than flash.
Double Your Dazzle   
Sometimes the idea of more than one band is exciting because it fills out your ring. However, you can still get this feeling and make the ring eye-catching by choosing one ring with a split shank mounting. What this means is that the band is split from the head of the central ring, making it look like you have two separate wedding bands in one. The split band forms a V-shape on either side of the ring, then blends into the singular band. You can have a line of diamonds on the split shank, all the way down the ring which is glamorous and also highlights the central ring by trailing from it. Go one step further by choosing a split-shank that has a curly or twisted design for extra style.
Ring mountings add a crucial element of style to the look of your overall ring. Consider the above tips when engagement ring shopping to choose a ring mounting that makes your diamond burn brightly forever.