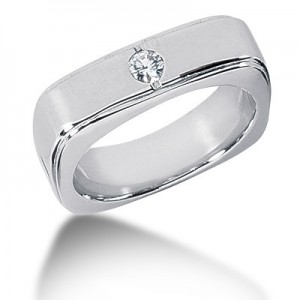 When it comes to diamond engagement rings, there's no denying that popular conceptions of the marriage proposal involves the man bending on one knee and proposing to his sweetheart. However, as 2011 draws to a close, more women are choosing to embrace their independence by proposing marriage first – and that certainly involves a different set of diamond engagement ring rules and traditions.
Whether you're planning on proposing to your boyfriend this holiday season or are just interested in this developing trend, here are the dos and don'ts of diamond engagement rings for men:
1. Think beyond the mall's jewelry store if you're on the hunt for diamond engagement rings for men. Unfortunately, male engagement rings are still quite rare, so your search will need to be conducted in specialty shops or online. Don't limit yourself to familiar brands – instead, branch out to experience the wonderful online jewelers (like 25karats.com!) that offer unique and modern engagement rings for men.
2. Don't fixate on the idea that you need to find a diamond solitaire ring for your man. If you want to propose in a ring that won't make him feel feminine, try looking for platinum, palladium or gold bands with diamonds embedded in them. For a different twist on an old traditional, custom order a ring with your birthstones on it, or simply present him with a plain band with a special message engraved in the underside. He'll be proud to wear a ring that celebrates your special relationship and celebrates his masculinity.
3. If you do opt for a man's diamond engagement ring, make sure your boyfriend is a diamond guy in the first place. Too many women make the mistake of assuming that since they love diamonds, their men will be just as overjoyed to receive one. However, some men simply don't like the look of diamonds, while others don't want to wear expensive jewelry due to their job requirements (construction, military, etc). Subtly drop the hint to see how he reacts to the idea of wearing diamond jewelry, especially rings. You should have your answer in no time.
4. Finally, be sure to propose to him in a way that celebrates his hobbies, passions and habits. If he's a shutterbug, have him develop a photo of his engagement ring. If he loves hiking, propose at a mountain summit. We guarantee he'll be overwhelmed by your touching gesture.
If you're tired of waiting for your man to propose, take matters into your own hands with diamond engagement rings for men!