If you're looking for that perfect engagement ring or shopping for a unique wedding band, then you know just how much variety there is out on the market today. From yellow gold to platinum and everything in between, it seems like picking the right metal for your diamond engagement ring or wedding band will be a complicated procedure…
…or will it?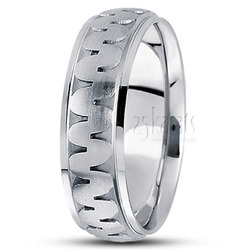 If you haven't considered the choice metal for your unique engagement ring or perfect wedding band, then consider this: platinum and palladium metals comprise the most popular choices for newlyweds and newly engaged couples alike. Thanks to the strength, elegance and beauty to these metals, platinum and palladium are in more demand than ever before.
But is it right for you? 25karats will take you through these two metals so you can choose which is the best choice for you and your sweetheart – so you can start focusing on your new life together!
Platinum. Platinum has long been a favorite metal choice for engaged and newly married couples. One of the most rare precious metals, the white luster of platinum metal perfectly complements the sparkle of a diamond, which is why it's so popular for engagement rings and wedding bands. Platinum is twice as heavy as 14-karat gold, and is considered much stronger by expert jewelers. In fact, gold typically melts at about 1,800°F, while platinum can withstand temperatures of up to 3,100°F.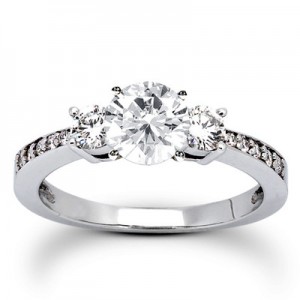 Additionally, platinum is more expensive than its gold and palladium counterparts because of its strength and density – jewelers find it notoriously hard to work with. Much of the cost of a platinum engagement ring or wedding band can be attributed to the degree of expertise needed to work with it. Unlike with a gold ring, a platinum ring requires a special order to be resized.
The advantages to a platinum ring are multifold. Since the metal is so strong, platinum engagement rings and wedding bands are more durable than their gold counterparts, meaning that they'll last longer. Platinum also beautifully highlights the color and clarity of diamonds, providing a ring that's sure to be a showstopper.
Palladium. Palladium has been a recent addition to the world of engagement and wedding band metals. Used as a substitute for platinum during World War II (when platinum was considered a viable resource), palladium wedding bands and engagement rings quickly grew popular due to its similar appearance and strength to platinum.
Palladium is a member of the platinum family, which means that its far more durable than its gold and yellow-gold counterparts. However, palladium is far more malleable than platinum, which means that it can be resized and shaped far more easily and for less cost. Yet this malleability comes at a price – because palladium is so easy to work with, it is considered the weaker of all alloys in the platinum family and can dull over time due to repeated exposure to heat and other natural elements.
But for those couples looking for a cheaper alternative to platinum with more durability than gold, palladium makes the perfect – and attractive – choice!