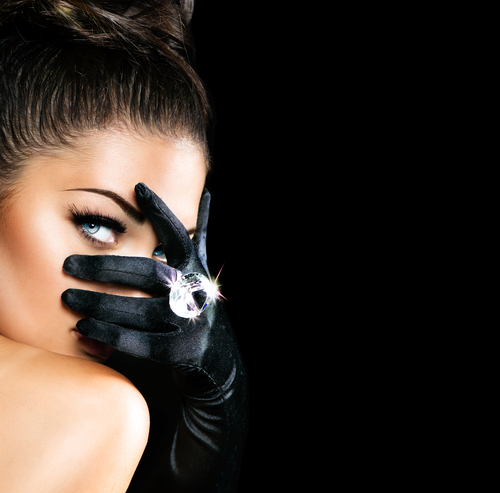 Styling white gold can be a pleasure, due to its relatively neutral hue and its brilliant shine. When having a special occasion where you want to wear unique jewelry, white gold allows you to be bolder with your fashion choices, as it lets you experiment with color and makes gem hues really pop.
White gold is also a popular option for jewelry carrying a great importance, like a wedding ring set for him & her consisting of personalized wedding bands. If you want the gems or stones to be the center of attention, pick unique matching wedding bands made with white gold framing diamonds, rubies or sapphires.
Even more simple items made with white gold are a sure way of enhancing your look, as they will draw the right amount of attention and highlight the color scheme and elegance of your outfit. As with other precious jewelry, make sure you don't wear too many accessories and balance the main points of attention to keep the look impactful as a whole.
If you want to know how to style gold rings, look for inspiration in classic models of beauty, like the timeless little black dress paired with precious jewelry, or dare to be bold by mixing and matching gold items
Neutrals Are Glamorous
If you want to look like a classic movie star, sophisticated heiress, or even just a chic French woman, opting for neutrals is the easiest way to do it. Dressing in dark, neutrals colors also allows you to wear more bling. That's because it offers a subtle palette that contrasts well with your white gold jewelry. (Not to mention that dressing in all black or other neutrals makes it easy to get dressed in the morning. Everything matches!)
Less is Truly More
Coco Chanel famously advised women to take one accessory off before heading out the door. Because white gold jewelry is so luxurious, you don't need a lot of it to make a bold statement. Therefore, try to stick with one or two eye-popping accessories. For example, opt for white gold earrings and a white gold ring. Or wear a ring and a diamond necklace. But don't wear all three. It can easily make the look gawdy. (An exception to this rule might be very special occasions like a white-tie affair.)
Don't Be Afraid of Experimentation
There is no rule that says all your jewelry must be the same metal. However, it can be hard to pull off white gold with yellow gold and copper. So I would stick to white gold with one other metal maximum. And it works best if the pieces aren't right next to one another. For instance, you could wear a white gold anniversary ring with yellow gold earrings or a necklace. But it might look strange to pair yellow gold jewelry with a white gold ring. There are no hard and fast rules, but if it looks out of place, it's probably wise to explore another jewelry combination.
Add A Pop of Color
Jewel tones look especially great with white gold jewelry. The neutral aspect of white gold makes rich colors like fuchsia, turquoise, burgundy, and royal purple look regal, daring, and sophisticated. Feel free to play with color! Perhaps you can pair a neutral skirt with a bold top or don black pumps with a deep pink dress. It's all about experimentation. Allow yourself to try something new, even if it isn't exactly "your style." That's how you make fashion discoveries.
Remember, you can also invest in white gold jewelry that incorporates beautiful colored stones like sapphire and jade. This looks especially great with the neutral palette discussed earlier. Nothing says "stunning" like a little black dress, sunglasses, and a diamond and ruby ring!
How do you style your white gold? Leave your comments in the space below.