When it comes to bending down on one knee and revealing that gorgeous diamond engagement ring, there's no denying that you want to make your proposal as memorable as possible. From coming up with special engagement ring ideas to making your proposal one that she'll never forget, there's no better time to propose to your sweetheart than this November 11, 2011.
After all, 11/11/11 only comes around once every century – so make this year the one where you ask the love of your life to marry you!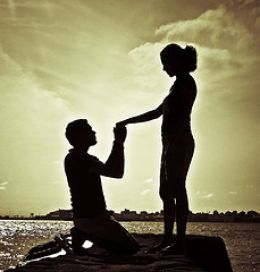 Want to make 11/11/11 even more special? Then here are a few special engagement ideas for November 11, 2011:
• Autumn is all about cool days, fresh breezes and gently falling leaves – and nothing is more reminiscent of the autumn season than picking apples in an apple orchard. Make this 11/11/11 incredibly special by asking your sweetheart to join you at an apple orchard. Pick a bunch of apples, grab a cup of hot apple cider and, when she least expects it, bend down on one knee and present her with the gorgeous diamond engagement ring of her dreams.
• Another great fall idea is to take a drive in the country and ask her to marry you at a particularly scenic spot. If you live in the city, this is a great opportunity to get out and enjoy that beautiful country air. Why not make a weekend of it and book a room at a romantic bed and breakfast? It will give you plenty of time – and the best atmosphere – for celebrating your new engagement.
• A great proposal idea for 11/11/11 is to let a scarecrow do the talking for you. Using an old shirt and pants, stuff a scarecrow with the fallen leaves in your yard. Take a pumpkin and write the words "Will you marry me?" on the outside with black marker. Put it in a noticeable spot (like your driveway). When she comes back from work or running errands, she'll immediately notice your adorable little scarecrow – and you kneeling next to it with a beautiful diamond engagement ring!
• As the November weather gets colder, celebrate the coming holiday season by cooking up a big autumn feast for her. Proposing over pumpkin pie is so romantic!
• Finally, just because the days are turning cooler doesn't mean you have to stop doing the summer activities you love. See if a local winery does autumn wine tours, or bundle up for a picnic on an isolated beach.
With these special engagement ideas for November 11, 2011, she's guaranteed to fall in love with you all over again!