2012 is finally here, which means there's a whole new list of engagement ring trends and styles that are set to appear on the fingers of fashionistas everywhere. Whether you're determined to stand out from the crowd this year or want a timeless ring that still symbolizes this special year, let's take a look at the hottest engagement rings for 2012: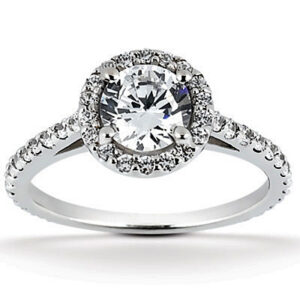 Palladium Engagement Rings: While platinum diamond rings have ruled the scene for decades, there's no denying that palladium engagement rings are looking to take over in 2012. Palladium looks almost identical to platinum (and no wonder – it's considered part of the platinum family) and has similar durability and strength. Palladium is also considered a great choice for those couples who suffer from metal-related allergies. Add to the fact that palladium is a perfect choice for those brides-to-be on a budget (it's remarkably cheaper than platinum), and it's no wonder palladium is set to be the hottest engagement ring style for 2012.
Colored Gemstones: Colored gemstones first came into our lives, thanks to the Royal Wedding – and they're not going anywhere in 2012. The interest in colored gemstone engagement rings is only surging, with stylish brides-to-be intent on choosing a ring in their favorite color. From deep-rich ruby reds to brilliant sapphires, colored gemstones are a perfect (and trendy!) way to inject a little color into your engagement ring.
Asscher Cut Diamond Engagement Rings: While princess cut diamond engagement rings certainly ruled the scene for the last decade, the Asscher cut diamond engagement ring is ready to take hold of the style crown. Asscher cut diamonds look similar to princess cut diamonds; however, the subtle differences make a huge difference in the final price of the former. Asscher cut diamonds use subtle laser cutting to create a multi-facet appearance, giving the diamond an enviable amount of shine. This kind of laser cutting also makes smaller diamonds look much larger – which is perfect for the glamorous couple who wants to save money on their stylish diamond engagement ring.
Multiple Stones: 2012 marks the beginning of another diamond engagement ring trend: multiple stones. From pave-set diamonds to eternity bands, multi-stone diamond engagement rings are a fashionable way to celebrate your love story. Be sure to show those multiple stones off with a gorgeous platinum or palladium metal band.
No matter where your love story takes you in 2012, why not celebrate with a stylish yet timeless diamond engagement ring? Choose one of these of-the-moment engagement ring styles, or select a vintage style – whatever your choice is, be sure to pick the diamond engagement ring style that makes your heart soar!