For people who love living on a budget, determining the final price of a diamond engagement ring can often feel like a nightmare. After all, it seems like so many random factors go into affecting the overall price of the diamond engagement ring. Even the brand of the ring can have a massive impact on the price – and add in the whole "two months salary" ring purchasing rule, and it's no wonder more grooms-to-be are scratching their heads over the final price of a diamond engagement ring.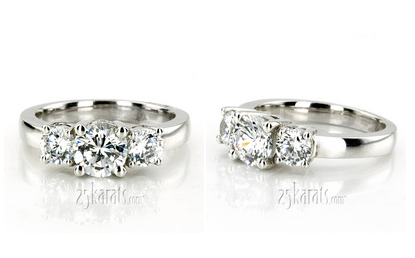 To help lend a little clarity to a very confusing situation, we've outlined the multiple factors that can affect the overall price of a diamond ring:
• First, it's important to forget that a "base price" exists. Many people assume that there's an average price to a diamond engagement ring, but there are so many factors that contribute to pricing that it's almost impossible to put down an average price.
On the other hand, that's some good news for grooms-to-be. While there's no average price to set your savings on, this means that you can set a budget that works for you. If you can only afford to spend $2,000 on a ring, then that's all you should spend. In this way, buying a diamond engagement ring can be an affordable option that won't bust your wallet.
• The metal of the engagement ring band will also play a big role in the final price. On average, gold and white gold rings are much cheaper than their titanium and palladium counterparts. By far the most expensive metal is platinum.
• You know that the size of the diamond is going to play a large role in the final price of the ring. However, that's not the only part of the actual diamond that's going to influence what you pull out of your wallet. The color, clarity, and cut of the diamond will factor into the final price, so don't always assume that bigger is better. If your honey has a particular eye, it may be worth it to spend your money on a smaller yet flawless diamond than a bigger diamond with blemishes and flaws.
When it comes to buying a diamond engagement ring for your sweetheart, make sure you factor in these components when planning your ring-shopping budget. This can help ensure that you don't succumb to a nasty case of sticker shock!
But what if you're looking to upgrade your diamond engagement ring? How much should you consider spending on a new ring? Should you attempt to simply re-size it, or should you take advantage of your higher income and buy your sweetheart the bigger engagement ring she deserves?
Here are a few tips that can help you out if you want to upgrade your diamond Here are a few tips that can help you out if you want to upgrade your diamond engagement ring:
• You could consider buying a new diamond engagement ring and fusing it with your old ring. This is a new technique that should be done by an expert jeweler, so make sure you can work with someone you trust. Also, you'll want to find a style that blends in with your old engagement ring. Think of it as a puzzle piece – one whose final picture is a much bigger engagement ring!
• They say the more's the merrier – and this is especially true when it comes to your diamond engagement ring. If you want to give your ring an upgrade, consider buying smaller loose diamonds and adding them to your current ring setting. For example, if you have a solitaire diamond ring, you could place two smaller stones along the side or place even smaller diamonds around the band.
• Swap out your main diamond with another, much larger diamond. Go to a local jeweler and see if you can buy a larger loose diamond. If the setting needs to be adjusted to accommodate the larger diamond, the jeweler can do exactly that.
Of course, you don't want to throw away your old diamond – it represents something special to you! Instead, consider turning the diamond into a pendant necklace or a floating bracelet. You could also consider putting it on another band and putting it aside as an heirloom for your children and grandchildren.
If you're looking for a diamond ring upgrade, don't feel bad about your search – instead, embrace these tips to get the engagement ring of your dreams