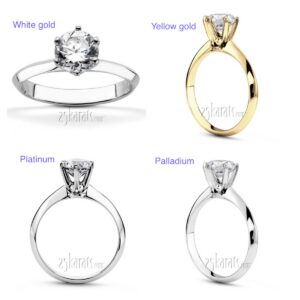 When it comes to engagement rings, there's no denying that people tend to focus on the main event: the diamond. From the cut of the diamond to its carat size, getting the perfect diamond tends to be the primary objective of engagement ring shopping.
However, don't let this gorgeous gem trick you into avoiding another important aspect of diamond engagement ring shopping: choosing the perfect metal for your ring. Without the perfect metal, it's nearly impossible to show off the diamond to its full luster. Add to the fact that the metal can have a big influence on the durability of your diamond ring, and it's no wonder more shoppers are paying close attention to their diamond engagement ring metal.
If you're wondering which diamond engagement ring metal is right for you, take a look at the different types out there and how they may affect your engagement ring.
Gold
Gold will always be in style, especially for those jewelry lovers who enjoy the vintage look. However, the type of gold you select can have a big influence on the durability and strength of your diamond engagement ring. For example, 24-karat gold is in its purest form – yet this also means that it's incredibly malleable. Pure gold engagement rings are difficult to find, as jewelers generally have to reinforce these rings with another type of metal alloy (thus diminishing the karat count).
If you love the look of gold, opt for a 22 or 14-karat gold diamond engagement ring. The only exception to this rule is if you have a nickel allergy, in which case you'll want to opt for something lower than 22 karats.
Platinum and Palladium
The silver color of these metals is absolutely ideal for showing off that sparkling diamond engagement ring. Additionally, platinum and palladium are both incredibly strong and durable, which makes this a perfect metal choice for someone who works with their hands. For budget-minded couples, palladium is a far cheaper choice than platinum. Yet don't let the price tag fool you into thinking it won't have a similar strength: palladium is regarded as much stronger and more durable than its platinum cousin. It's a great compromise between strength, style, and budget.
The type of metal you select will have a profound impact on the appearance of your diamond engagement ring – be sure to choose carefully!
For more information, please go to http://www.25karats.com/education/metals/