One of the best occasions to wear cufflinks and showcase such a great level of detail is a major event like a wedding, whether it's your own life event or you are invited to one. Showcasing a pair of elegant and carefully assorted cufflinks can take your attire to the next level.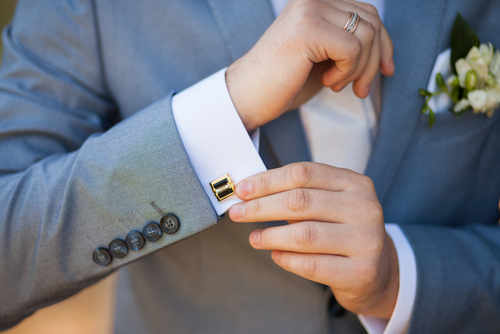 When it comes to round vs square cufflinks, you can make your decision easier by sticking to a simple principle: straight, linear shapes evoke a more formal occasion, while daring designs like curves and round shapes can be perfect for a more relaxed event where you can experiment with your outfit. As part of the preparation ritual for a groom, an exquisite wedding ring set can really shine when paired with an elegant pair of cufflinks.
Ultimately, your cufflinks should complement your suit without overwhelming the viewer, so choose classic metals like gold or platinum for your special accessories. Whether you go with round or square cufflinks, picking unique matching wedding bands can create an amazing effect and become one of the details you will love to revisit.
However, whether you're in the boardroom or at the altar on your wedding day, cufflinks add a sophisticated touch you don't want to go without. Not sure how to wear cufflinks for maximum effect? Follow these tips.
Keep it Simple
Although cufflinks come in a variety of styles, a good starting point is to keep them as simple as possible. Stick to metals, such as gold or platinum, that never go out of style. If you want to experiment with something a little different, opt for gemstone or pearl cufflinks. The key with all of these styles is to avoid anything that's too decorative, especially if you're in the boardroom. Now is not the time to break out the novelty pair! Focus on elegance and class to seal your style easily without trying to overpower it.
Don't (Always) Be Square
When you imagine cufflinks, you probably think of straight, square pieces. But this tradition doesn't have to be a rule as you can make use of different shapes from time to time. For instance, curved cufflinks look classy while giving your sleeve a little trendiness. They're a fun way to do something different with your cufflinks without losing any class. However, it's worth bearing in mind that rounded and curved cufflink shapes work better when you're attending casual events. So if the wedding is less formal, these can work. For formal business events, you want to embrace the structure and formality of straight lines, so stick to square or geometric shapes.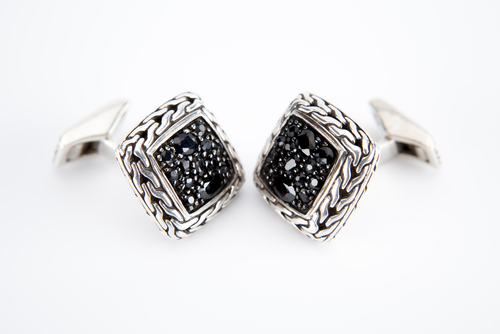 Symbolic Stones
Some social occasions call for a dressier pair of cufflinks, such as if you're attending a black tie wedding. This is where you can break out the small diamond cufflinks or opt for gemstones. A flash of color in this way can be an eye-catching detail on your formal tux while giving your look personality, and gemstones can also be extra special if you choose colors that evoke certain meanings. For instance, black onyx and amethyst gemstones are said to attract positivity and prosperity; on the other hand, agate and pearl cufflinks bring peace and mental equilibrium. From the outside your cufflinks make you look fashionable, but knowing their deeper symbolism can make wearing them feel extra special.
Black is the New Black
An interesting material being used in some cufflink designs is that of black carbon fibre. It is becoming a popular choice for various items of jewelry, and remains a trendy option if you want cufflinks that have a modern flavor. This rich material is most suitable for work because it gives a strong, hard appearance that is tempered with a blast of classiness. Just perfect for those crucial business deals. When used with other details, such as stainless steel or a satin finish, black carbon fibre cufflinks evokes masculinity and style. The bonus? It's durable, not easily scuffed or damaged.
Consider the Finish
Cufflinks come in a variety of finishes, so consider the one that is right for the look you are trying to achieve. A polished silver finish is always effortlessly trendy and fits various occasions as well as fashion styles. On the other hand, a silky satin finish adds an extra dash of luxury to your cufflinks so it's great for more posh events.
Perfect Match
If you've got other jewelry on, such as a watch, be sure that your cufflinks match its metal. So, if you're wearing a platinum watch, keep your cufflinks platinum. Only wear one metal at a time. If you're wearing gemstone or pearl cufflinks, you should still strive for synchronicity with your other jewelry. Pearls can work with different metals, but consider color when dealing with gemstones. Gold works well with gemstones that are earth-toned, such as brown, blue, or hunter green. Silver or platinum, on the other hand, works beautifully with colder colors, such as grey, black, white, and lilac.
If it's your wedding, bear in mind that you shouldn't only match your cufflinks to your other jewelry but also to the wedding band and jewelry your bride is wearing. So take a peek at what metals and gemstones she's planned for the big day and be sure to match them so that you look part of a team and your cufflinks don't stand out like a sore thumb at the altar.
Button your style with fashionable and sophisticated cufflinks that take you from the conference room to glamorous social function with ease.