Let's face it: when it comes to topics about picking out the perfect wedding ring, most articles are geared towards fulfilling a woman's needs. But let's not forget about the guys here – after all, they'll be wearing their wedding bands for the rest of their lives as well!
Your man may not have as great an interest in jewelry as you might (at least, you're pretty sure he hasn't bookmarked at least five different websites about diamond engagement rings), but that doesn't mean he doesn't care about what goes on his ring finger. If you want to pick the perfect wedding ring for your man, then follow these tips and tricks below: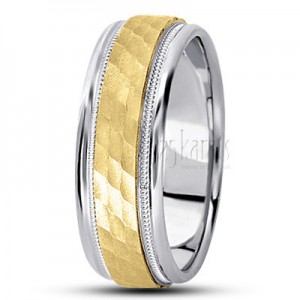 Don't Ignore Diamonds. Okay, the market for diamond wedding rings is certainly cornered by women – but make no mistake, men are starting to show an interest in diamond wedding bands. If you think men's diamond wedding bands will showcase obnoxious diamonds, think again: today's diamond wedding band for men is subtle, stylish and anything but obvious.
If your man has an interest in style and likes his diamond ear studs, then chances are he'd love a diamond wedding band. Try picking out a channel-style platinum wedding band, where tiny diamonds are set flush on the surface. This creates a smooth and visually pleasing surface that's tasteful and man-friendly as well.
Forget the Gold Band. When it comes to male wedding rings, gold was the go-to choice in the 80s and 90s. However, in the 21st-century, platinum is the ultimate precious metal that men prefer for their wedding bands. Platinum is incredibly durable and strong, which means your construction-working hubby doesn't have to worry about his ring on the job. If your budget can't quite stretch to platinum levels, then settle for palladium: it's a precious metal that's in the platinum family, and is just as durable. Plus, thanks to palladium's appearance, no one will know that your husband's wedding band is a "budget" ring.
Get the Ring Measured. Plenty of emphasis is placed on the woman's engagement ring, which means that too many men are fitted with wedding bands that just aren't right for their fingers. Don't hog the jeweler for yourself – make sure that your husband's wedding band is precisely fitted to his finger. After all, he's going to be wearing the ring for the rest of his life as well – and he doesn't want it to be uncomfortable or to pinch his skin!
When it comes to picking the perfect wedding band for your future husband, take the time to pick out one that's just as special as your engagement ring. Besides, isn't it about time for women to share in the wedding band fun?