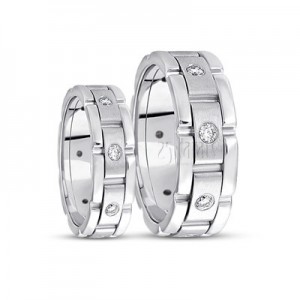 When it comes to diamond ring shopping, there's no denying that plenty of emphasis is placed on finding the perfect diamond engagement ring. However, while every girl dreams of her engagement ring, not everyone has their perfect wedding band in mind – which is why many couples find shopping for wedding bands so difficult.
If you've found yourself wondering how much should you spend on your wedding bands, or when's the best time to shop for your diamond wedding bands, then you've found this article just in the nick of time. Read on for the simple yet clear-cut rules to finding your perfect wedding bands:
Keep Engraving in Mind. Plenty of brides dream of sporting wedding bands with something sweet engraved on the inside of the ring; however, not all brides leave enough time for this complicated process to be completed. Whether you're just starting your wedding planning or you're already knee- deep in colored napkins and reception favors, it's important to leave a few months between now and your wedding for engraved wedding rings.
To avoid any untimely delays or mix-ups, be sure you're specific about your engraving requirements. Don't just hand your wedding date or sentence over to the engraver and expect it to look perfect; be
sure to know what you want in terms of font, size and style. You might feel like a bridezilla by being so demanding, but trust us – your engraver wants this information from you!
Forget The Matching Rule. Plenty of couples run into major hurdles when choosing matching wedding bands. If you're a huge fan of diamond wedding rings, while he prefers a simple and classic gold wedding band, you don't have to wear matching wedding bands. You should both pick out wedding rings that look and feel right. Besides, this is the one piece of jewelry that you and your hubby will wear for the rest of your lives – so you want to make sure you're both big fans!
Don't Break the Wedding Budget. Hey, we understand that times are tough. Add to the fact that you're expected to shell out $30 a head at your reception, and it's no surprise that you're feeling the strain over paying for your wedding bands. However, you don't have to be stuck with the same wedding ring for the rest of your lives together. In fact, loads of couples are opting for cheaper wedding ring options for now, with the promise of upgrading to a new wedding ring once those bills for catering have finally been cleared. So if you can't afford platinum, don't buy it right away – after all, you don't want to start your married life in a load of debt, do you?
Finding your perfect wedding bands doesn't have to be difficult – just turn to this article when you need a helping hand!