Every lady deserves a fabulous ring that fits her personal style ethos. Check out these gorgeous rings that are as unique, magnificent, and affordable for every budget. 
For the Princess with Poise: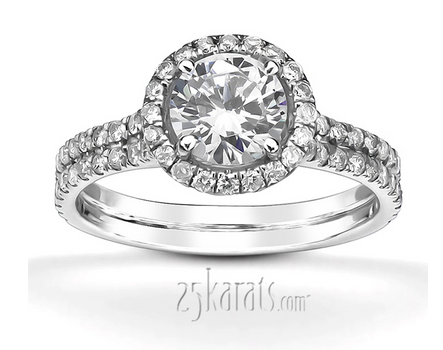 Serve up some Once-Upon-a-Time glamour with a piece that is stunning, timeless, and oh-so feminine. Consider this handcrafted micro pave set diamond engagement ring complete with 3/4 ct. t.w. G-SI diamonds. It's setting is modern, polished, and dazzling. 
And for those looking for a ring that's customizable (and who isn't?), rest assured. It's available in different karats and colored center stone options. Might we suggest sapphire or emerald, a beautiful contrast to a classic piece. Be prepared for tons of compliments and requests: "Oh my! Can I see your ring!" 
For the Vintage Lover: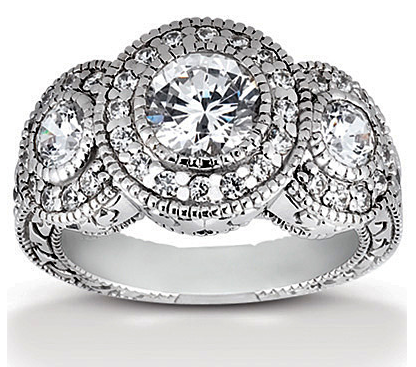 One-of-a kind antique wedding rings are sure to turn heads with their history, art-deco settings, and craftsmanship. Plus, their rarity ensures that you won't run across many imitations. 
This three stone, antique diamond engagement ring would look right at home with an elegant lace gown, sepia photographs, and delicate details. Featuring 40 stones on the sides and shank (totaling 1.12 ct.), it's perfect for the bride who loves classic films and Gatsby-inspired fashion. Just say yes to old-world elegance. 
For the Bohemian Bride: 
One of the great things about being a modern bride is that any ring can become a wedding ring. It's all about finding a lovely piece you'll want to wear every single day. Interesting settings, unusual stones, scrolling metal work, and lovely colors add a dynamic quality to bohemian-inspired wedding jewelry.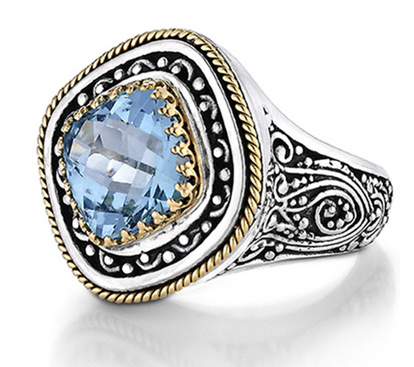 This sterling silver, 18K yellow, blue topaz Sara Blaine ring makes a statement and provides that "something blue" for your big day. Aegean patterned silver and the affordable price add to the piece's effortless appeal. Make a statement and set yourself apart! 
For the Modern Woman: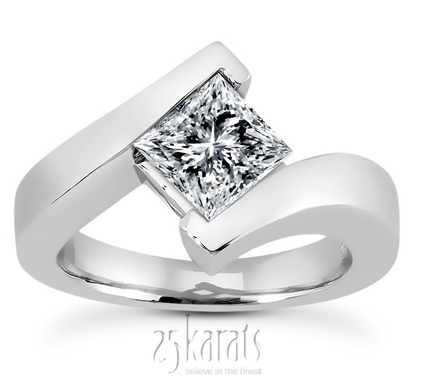 Clean lines and abstract-art-inspired style add to bar-set diamond rings' appeal. Tension between the classic diamond and the bold setting makes this ring a must-have item for the modern bride that prides herself in her unique taste. Best of all, this ring is available in white gold, yellow gold, palladium, and platinum and retails at a very affordable price. 
For the Low-Key Lady: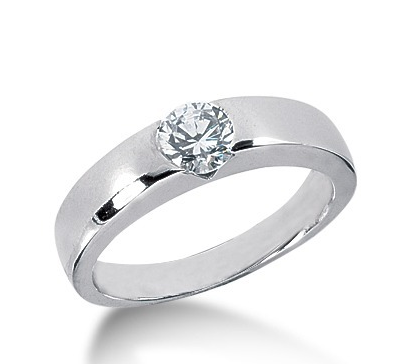 Subtle, stylish, and classic, this tension-set diamond engagement ring is ideal for the woman who prefers simple elegance. It's also available in a variety of metals. Here, the ring features 14K white gold and is set with a 0.30ct.-0.45ct. round cut diamond.
His and Hers: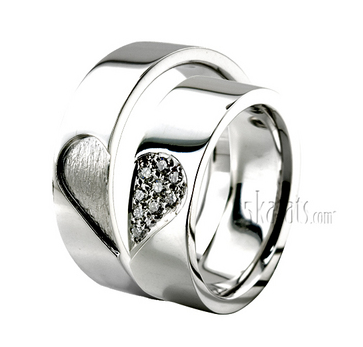 Matching bands provide a wonderful symbol of your union. And these rings, holding two halves that combine to create a whole heart, are sweet and individually striking.
Her band features a 9 round cut diamonds totaling 0.09ct, and both sport highly-polished, 14K white gold. Romantic!
What style strikes your fancy? 
Are you a bohemian bride? Perhaps you can't get enough of modern jewelry or vintage finds? Leave your comments in the space below.