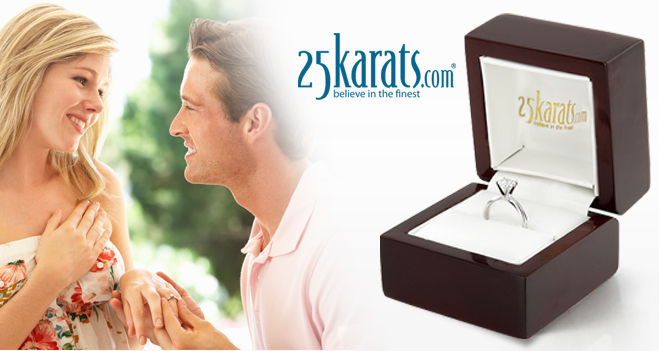 Let's face it: you want to give the love of your life the ring of her dreams. After all, you know that she's been dreaming about her engagement ring since she was a little girl – and you're not about to disappoint her with anything less than what she deserves.
But diamond engagement rings are expensive – and your budget isn't exactly accommodating for an expensive ring. Add to the pressure that you may be experiencing from popular culture to buy a massive rock, and it's no wondering you're feeling nervous at the thought of what buying a diamond engagement ring will do to your budget.
You don't need to resign yourself to a lifetime of debt just to get your girlfriend the diamond engagement ring she's always dreamed of. Simply use these budget-friendly diamond engagement ring ideas – she'll be thrilled with her ring, AND you won't have to start your wedded life in debt!
Buy Online
You buy everything online – and now you can even buy your diamond engagement ring on the World Wide Web! Online retailers often offer superior bargains because they buy directly from the manufacturer. This means you won't have to pay extra money to the middleman (or, in this case, the jeweler).
Look for Designer-Inspired Engagement Rings
These days, you don't have to buy a designer diamond engagement ring for it to look as good as the real thing. Thanks to the popularity of Tiffany's and Tacori, more engagement ring designers are embracing their classic designs within their own stock. If your sweetie has her heart set on a designer engagement ring, take a look at her dream style and find a designer-inspired look. You'll be able to deliver the rock of her dreams without having to shell out a ton of money just because of a brand name.
Think Outside the Box
If you're looking to get a diamond engagement ring that's truly unique, go to antique fairs and auctions. You'll be surprised at the amount of diamond rings that appear at these under-the-radar events – and with some careful haggling, you can walk away with a gorgeous diamond engagement ring for just pennies on the dollar. This is an excellent option if your lady enjoys the look of a vintage diamond ring.
Buying a budget-friendly diamond engagement ring is a smart financial move that ensures you and your sweetheart won't start your new life together in debt. Embrace these smart moves, and you'll be able to deliver the diamond ring of her dreams!