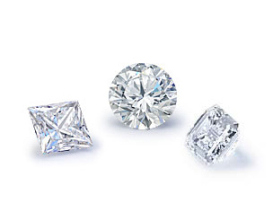 When it comes to purchasing a diamond engagement ring, you want to make sure you give your love something that sparkles and shines as much as your love for her. But that doesn't always mean you should jump for the first lustrous diamond you see – especially if it's the first diamond jewelry store you've visited.
Let's face it: unless you're working with an unlimited budget, you want to make sure that you're getting maximum value for your money. That's why you should use expert diamond buying tips that are guaranteed to find you what you're looking for. These diamond-buying tips are so advanced that expert jewelers use them to procure their own diamonds.
Ready for a crash-course in buying your sweetheart a gorgeous diamond? Of course you are – so get ready for the most informative two-part article you'll find on purchasing a diamond!
1. If you're after a diamond ring, try to see if you can see the diamond loose. This might be difficult to do, especially if you're working with a jewelry store that offers rings as they are. However, making the extra effort is worth it. If you want to buy quality for your sweetheart, you should be able to examine the entire stone, not just the top surface that's being presented in the setting. If you can't see the stone loose, see if the jeweler offers an inspection certification that demonstrates the diamond's quality and flaws.
2. See if the jeweler will offer you a free lifetime warranty. It's not very common, but it's always worth asking for. Ultimately, you want to walk away from your diamond ring purchase with at least some kind of warranty in hand.
3. Find a jewelry retailer who offers you plenty of choices and options. This way, you won't feel pressured to buy a diamond ring you don't love simply because the retailer doesn't offer anything else.
4. Make sure the ring is sized for her ring finger. Recruit a trusted friend or family members to find out her ring size before you go ring shopping.
5. If you want to buy a ring with diamonds on the side, pay attention to their quality as well. They may be smaller, but they still deserve your attention!
6. Only buy a diamond from a certified jewelry vendor who can show you that the diamonds have been inspected by the GIA.
Ready for more great tips you must use when purchasing a diamond? Then check out part two of our article!