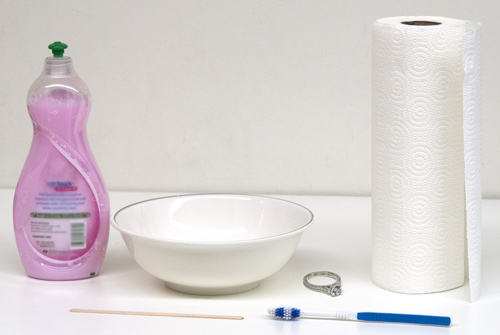 When wearing your special jewelry everyday, it is bound to get a little dirty. Many of us wear our engagement rings, wedding bands or even anniversary rings daily and never take them off. But just like anything else worn daily, the wear and tear starts to show. 
This is the last thing you want, especially when it comes to symbols of your love. The good news is there are many things you can do to care for these pieces.
Are there steps I can take to prevent my rings from getting dirty?

There are a few things you can do to prevent your rings from getting worn out.
Apply lotion, cosmetics, hairspray and perfume before putting on your rings.


Store your rings in a special place, especially while doing physical work such as cooking, cleaning, gardening or exercising.


Do your best not to expose your rings to household cleaning products
My rings are already looking worn, what can I do?
This is normal. Rings are meant to be worn daily, especially engagement rings and wedding bands. Try these at home cleaning steps to keep your rings looking sparkling and new.
Simple method: Dish soap and water. No matter what kind of materials or what setting your ring has, it's best to use a simple solution of gentle dish soap and water. Combine warm water and dishwashing soap into a small bowl. Then allow your rings to soak in the solution for about 20 to 40 minutes.

If your ring is dull due to regular use of hard-to-remove substances such as lotion, cosmetics, hairspray and perfume, you can remove the residue by scrubbing the ring with a soft toothbrush.

When finished, rinse your ring under some warm running water, but don't forget to cover your drain (to prevent any mishaps or accidents). Repeat this process until you don't see any remaining residue on your rings.
Use a non-abrasive and chemical-free professional-grade solution. A jewelry solution can easily restore and polish diamonds, precious stones, platinum, and gold jewelry without damage. Just make sure it doesn't include bleach, chlorine, or acetone and is truly a chemical-free solution.
Even cleaning them myself, my rings are still looking dirty. What can I do now?
There are times you just need a little help. If you have cleaned your rings yourself and they are still looking dirty, it may be time to take them to a professional.

This is simple when your rings come from 25karats.com.
We offer free re-polishing, prong tightening, rhodium plating and cleaning for the life of your 25karats jewelry.
Now that my rings are clean, how can I keep it that way?
Keep to a fairly normal cleaning schedule and you can keep your rings clean as ever.
Every Two Weeks: A simple cleaning to remove everyday dirt. Use the simple soap and warm water solution.


Once a Month: Use the non-abrasive and chemical-free professional-grade solution for a deeper clean.


Twice a Year: Hand your rings over to a professional. This ensures that your rings not only stay sparkling, but also that your prongs are tightened.
Take these simple steps and your jewelry will be as beautiful as the day of your engagement, wedding and anniversary.