One of the most exciting parts of the engagement phase is picking out your wedding bands with your sweetheart. This event is significant for a very good reason: you're picking out the bands that you'll be wearing for the rest of your life. That's why you'll want to select durable yet beautiful wedding bands that reflect your unique personality, along with the story of your love.
However, one mistake that many engaged couples tend to make is that they wait until a few months before the wedding to pick out their rings; i.e. they don't have much money leftover to allocate toward the wedding band. Let's face it: you don't want your wedding rings to be an afterthought in the long road to nuptial bliss. That's why you should take the follow steps to budget for your wedding bands: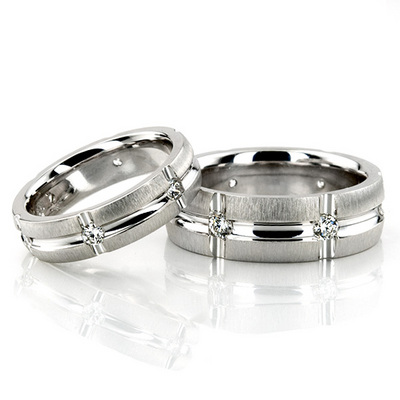 • Not sure how much you should spend? Take a look at the average amount couples in your area spend on wedding bands. This can give you a firm idea of what jewelers in the area are offering, and where you should settle your expectations. This can help you anticipate the cost of your wedding bands, which is crucial for creating a realistic budget.
• Assess what types of wedding band styles you love. Whether it's a simple platinum wedding band or a ring of pave diamonds, do your research to see what styles appeal to you. Create a list of rings that speak to your heart, and research how much they cost. Have an honest conversation with your fiancé about what you can afford. If the wedding band you have your heart set on is too expensive, try making a cut in your wedding budget so you can get the rings. Maybe you could take a couple hundred dollars from your wedding dress budget or skimp on professional make-up to get the bands you love.
• Commit to upgrading after the wedding, when you and your fiancé (hopefully) have the money to afford it. Buy simple wedding bands for the ceremony, then start saving up so you can get the wedding ring you love without making sacrifices in other areas of your budget.
Your wedding band represents the unique story of how you and your fiancé came together, so try not to get too stuck on the price. After all, there are ways to save on your wedding band – and you'll discover them all at 25karats.com.