Customer Testimonials
Thousands of happy customers
At 25karats,
customer satisfaction is our number one priority.
We want to provide you with the best service possible. Would you consider posting a review of us online? In addition to providing feedback, online reviews can help other customers learn about who we are and about the products we offer. They are also a great way to give referrals to your family & friends. Please take a minute to leave a comment for us at
here on 25karats.com
, we would really appreciate it.
"Gorgeous!..."
March 15, 2017
We received our bands today. Right out of box they were gorgeous! They fit perfectly thanks to the ring sizer set 25karats had sent to us. It took us over a month to decide on the bands, but as soon as we stumbled upon 25karats.com we knew we will get our bands from them. The selection was so vast and beautiful, choosing a style was the biggest problem! We definitely recommend 25karats to everyone in the market for their bridal rings!
Alisha & Tom
TX
"the moment is WOW.!..."
February 21, 2017
I take this opertunity to give credit where credit is due,by saying how pleased I was when the wedding ring arrived, the one word to describe the moment is WOW.!! the staff at 25Karats.com are very adroit in their field. I will recommend them to my friends and family, and encourage others to seek their Professional and helpful guidance....
sincerely,
Donald.
"It is everything I hoped it would be..."
February 09, 2017
I recently purchased a new wedding band from you. It arrived on Monday, February 6th. I wanted to drop you a note and tell you how pleased I am with the ring. It is beautiful !!! It is everything I hoped it would be , it fits perfectly and is just what I've been looking for. I had to replace my plain wedding band after being married 21 years. I looked for MONTHS and finally settled for a thin band from Kay Jewelers. I wore for the last four years and in July I ordered another band from someone on Etsy. I liked it, but again, it wasn't exactly what I wanted. Somehow, last week I started looking at bands online once AGAIN and came across your website . I am so happy I did!!
I now have what I'd been looking for for five years and couldn't find anywhere else. I will wear this band for many years to come. Your customer service was outstanding. I will recommend you to anyone who is looking for a beautiful ring .
C.M.
NY
"You guys are amazing...."
February 01, 2017
Thank you so much!!! 25karats! You guys are amazing. It arrived before the time I needed it and my husband loves his ring. Thank you for solving my ring size problem. I am truly speechless.
A.V.
Tulsa, OK
" It is stunningly beautiful!..."
January 12, 2017
I had the pleasure of discussing rings with Nevy. My fiancé wanted her wedding band to be styled similar to her mom's and 25karats exceeded expectation. It is stunningly beautiful! Furthermore the price, deliverance, and overall quality is superb. Thank you very much Nevy and 25karats.
P.H.
Verona, NJ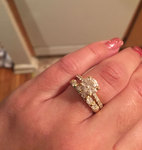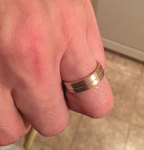 "The customer service is outstanding..."
December 31, 2016
So happy with the new setting for my diamond engagement ring! The customer service is outstanding helping me to make my decision and create for me the setting that best suited my diamond. The pictures in the website just don't do the rings justice. It is so much more beautiful than I was expecting! This is my second purchase and I am extremely pleased!
M. R.
VA
"bands for an eternity..."
December 23, 2016
Needless to say, 25karats has the most gorgeous website among jewelry companies. It's so easy to navigate and choose what you really want. But the actual products are even more gorgeous! My husband and I are delighted with the quality of our rings. After waiting 10 years, these are the bands we always wanted to wear for an eternity. Thank you 25karats for your beautiful collection and kind customer service!
Lorraine & Mitch
KS
"We recommend 25karats.com to all our friends. ..."
December 22, 2016
We are extremely happy with our purchase. 25karats customer service was beyond kind and professional. We received a phone call for order confirmation, and they advised us to go up with ring size because of wide band style we chose. That turned out a great insight and our rings are a perfect fit! We recommend 25karats.com to all our friends.
Nadia
CA
"They are stunning!..."
December 21, 2016
The rings were just delivered. They are stunning! The attention to detail is amazing! I am so glad I found you all, because as soon as I saw the ring I knew it was the one! I will certainly be recommending you to everyone I can!
Thank you so much for all of your help. I look forward to doing business with you all again in the future!
Thanks again,
B.P.
MO
"personal service was outstanding!..."
December 19, 2016
For over a year I have been going to websites after websites looking for a distinctive wedding band I would want to wear for the rest of my life. I am happy to say that I found the wedding band on your incomparable website. And the personal service was outstanding! Thank you.
MJ C.
San Antonio, TX
What Our Customers Are Saying