Customer Testimonials
Thousands of happy customers
At 25karats,
customer satisfaction is our number one priority.
We want to provide you with the best service possible. Would you consider posting a review of us online? In addition to providing feedback, online reviews can help other customers learn about who we are and about the products we offer. They are also a great way to give referrals to your family & friends. Please take a minute to leave a comment for us at
here on 25karats.com
, we would really appreciate it.
"The workmenship is perfect...."
November 06, 2016
Ordered new wedding bands for our 2nd anniversary. Just want we wanted. The workmenship is perfect. Both rings are perfect in every way.
Beautiful smooth, bright shinny white and yellow gold. The inscriptions are beautiful!!!
My husband and I both love the rings and it was affordable since I could put them on a lay away plan.
Every person I spoke with was kind and easy to work with. Received rings about a week before of anniversary which was perfect.
Thank you 25Karats!!!!!
K.B.
TN
"what you see is exactly what you get: a beautiful ring..."
October 28, 2016
I ordered a mans size 13 two toned wedding band.I ordered a ring online before from someone else and was really disappointed.But the ring I ordered from here is just as beautiful as the picture of it.It fits perfect and I love it.They were very professional in calling me right after I ordered it to confirm everything.Very nice ring.I will tell all of you what you see is exactly what you get a beautiful ring.TY 25Karats
"Reasonably priced jewelry with excellent customer service!..."
September 11, 2016
About two weeks before we were to be married, my husband and I found the matching wedding bands we wanted at 25Karats. I was concerned about getting them on time and was assured that we would. Immediately after placing the order, GK called and confirmed that the order had been received and wanted to make sure we were ordering the correct ring sizes. Because of the wide width of the rings, GK suggested that we both go to a slightly larger size, so we did. The rings arrived on time, they were beautiful and my husband's ring fit perfectly! My ring, however, felt a bit too loose, so after we were married, I contacted GK and explained my concern. He immediately explained what I needed to do get the ring size corrected at no cost other than S&H. When the new ring arrived, I was much happier with the way it fit over my knuckle. In a nutshell, we love the rings and thank GK for his kind and professional manner in handling the situation. I would recommend 25Karats to anyone who is looking for high quality, reasonably priced jewelry with excellent customer service!
Cathy R.
"Thank you 25karats.com!..."
September 03, 2016
"Amazing customer service!..."
August 29, 2016
"Beautiful rings......"
August 28, 2016
"Love our 25karats rings!..."
August 28, 2016
"So helpful and friendly customer service!..."
August 27, 2016
I looked high and low to find a mens wedding band that would match my own in a similar design. Since my band was purchased in a set locally they didn't have one for the groom....then I found 25karats.com. WOW, I was impressed! I found the perfect design. Thank you 25karats for being so helpful and friendly during my purchase.
Debbie S.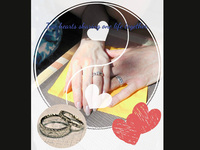 "Great customer service!..."
August 25, 2016
What Our Customers Are Saying