Customer Testimonials
Thousands of happy customers
At 25karats,
customer satisfaction is our number one priority.
We want to provide you with the best service possible. Would you consider posting a review of us online? In addition to providing feedback, online reviews can help other customers learn about who we are and about the products we offer. They are also a great way to give referrals to your family & friends. Please take a minute to leave a comment for us at
here on 25karats.com
, we would really appreciate it.
"We will be recommending '25karats' to all!..."
August 23, 2016
The rings showed up Friday afternoon and what can I say but WOW. You absolutely nailed it. Exactly what my wife was looking for. And the size is perfect. She has waited for 24 years for this. I have a very happy wife as you can see from the first picture. You are a Master Craftsman and a very patient man.
I know my wife will be asked where she got such a beautiful ring set. We will be recommending '25karats' to all.
Jeff M.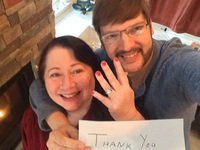 "Beautiful Rings..."
August 22, 2016
"25karats ROCKS!!..."
August 20, 2016
My wife bought me this beautiful wedding band. I found it only fitting that I share our wedding photo with 25karats and all of their followers. So that everybody can see what incredible styles they have! Check out their site. My wife states that after she researched the web, they had, without a doubt, the best site, quality and design and their staff is extremely friendly and accommodating. 25karats ROCKS!!!
Lloyd W.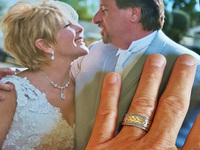 "Thank you 25karats!..."
August 18, 2016
"...as pretty as the day I bought......"
August 17, 2016
" I love my ring......"
August 16, 2016
"Amazing team, great customer service!..."
August 16, 2016
Our journey began 25 years ago without a wedding or much else for that matter, but instead, we invested in each other. When our 25th year of marriage approached, my hubby told me that we could upgrade my ring to whatever I wanted. When I began my search, I found 25karats, and the irony of our "25th" wedding anniversary being marked by having "25"karats design a ring for me was something special. I knew it was meant to be. The amazing team was great from the start and communicated with me during the entire process. Every email and phone was spent talking to the kindest and most talented people. For 25 years I've had the husband of my dreams, and now I have the ring of my dreams as well. Thank you for being a part of our story.
Rhonda S. S.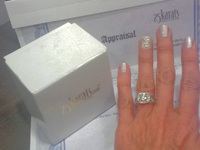 "Love my ring!..."
August 15, 2016
"Thanks 25Karats.com..."
August 12, 2016
What Our Customers Are Saying