Customer Testimonials
Thousands of happy customers
At 25karats,
customer satisfaction is our number one priority.
We want to provide you with the best service possible. Would you consider posting a review of us online? In addition to providing feedback, online reviews can help other customers learn about who we are and about the products we offer. They are also a great way to give referrals to your family & friends. Please take a minute to leave a comment for us at
here on 25karats.com
, we would really appreciate it.
"beautiful rings ..."
February 15, 2020
I was leery about ordering rings online but I couldn't have had a better experience. Semra was unbelievable with her patience and expertise. I was on the phone for an hour the first time we spoke and she was so helpful in making suggestions. We spoke multiple other times and she addressed my concerns with the width of the ring. She even took pictures of different widths on her finger and sent it to me to compare. She also photo shopped pictures of some ideas i had of making a two color ring tricolor. They came out beautiful, just what we wanted. I can't recommend her enough. Their prices and selection were also so much better than any local store I went to. The wooden boxes they came in were a beautiful touch. Don't look any further if you want beautiful rings with excellent customer service.
Luann H.
MD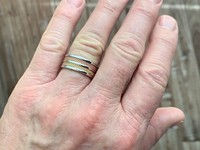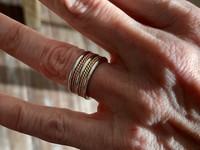 "our rings were gorgeous!!!..."
February 02, 2020
We just received our beautiful matching ,handmade wedding bands and we can't thank Semra enough for all of her hard work and dedication to ensure that our rings were gorgeous!!! We absolutely love our rings and value our new friendship that we developed with Semra!!! Our rings are not only beautiful, but the high quality of workmanship is outstanding!! 25 Karats is an extremely reputable site/company who truly stands behind their high quality reputation! Semra is an extremely dedicated employee who strives for excellence so that her customers will cherish their rings fora lifetime!!! She is most definitely a great asset to 25Karats , as well as well all of their customers who are very fortunate to work with her!!! Thanks so much Semra and 25Karats!!!!!
V.S.
CA
"high quality..."
February 02, 2020
We can't thank Semra and 25Karats enough for our beautiful matching, handmade wedding bands!! She worked so hard to ensure that our rings were high quality and gorgeous rings that we could cherish as we do!! Semra is truly an asset to 25 Karats , as well as all of the fortunate customers who are able to work with her!!! Additionally, we truly value the special friendship we have developed with Semra and will recommend 25Karats to everyone we know!! Thanks so much Semra and 25Karats!!!
V.S.
CA
"The quality is excellent ..."
January 20, 2020
We bought the Fine Grooved Fancy Designer Wedding Bands about 2 1/2 years ago. They were, and still are, beautiful. The quality is excellent and the customer service among the best I've ever experienced. 25 Karats was super easy to contact and work with. Having said that, I need to say that as beautiful as our bands are, we probably chose the wrong ones for us, as the cross satin finish wore off pretty quickly. In no way do I blame 25 Karats for that, it happened to my husband's first wedding band that came from Zales too. So if you use your hands a lot, you might be happier choosing a more durable finish. Also, when the rings were brand new, the grooves were quite sharp and snagged on our clothes for awhile. Still, we love our rings and loved doing business with 25 Karats. I was afraid of buying wedding bands via mail order, but took a chance and am so pleased I did. This company has the absolute best selection of wedding bands, it took us days to finally decide which ones to buy. If you are looking for the perfect rings, I believe you'll find them here and the quality and customer service will be unsurpassed.
Deb
California
"an absolute joy...."
January 16, 2020
What can I say about 25karats? The entire process has been an absolute joy. Semra was nothing but helpful and so fast with response time. The ring came in the mail and was more beautiful than I could imagine.
"customer service is TOP NOTCH! ..."
August 09, 2019
my wife-to-be bought me a palladium Item: BA101211 Exquisite Religious Wedding Ring in September of 2010 . been great and have loved it every minute for the past 9 years. recently sent it back for a resizing to increase a 1/2 size. item was turned around completely in about 2 weeks. came back completely refinished, repolished, resized, and looking like BRAND NEW! shipping charges were high (not 25karats fault) - but well worth the expense to have a great fitting and great looking ring! customer service is TOP NOTCH! THANK YOU!!!
R.H.
OH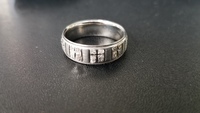 "so pleased with the ring, the service and 25karats..."
July 12, 2019
We shopped extensively for my wedding band, wanting a novel Celtic design. We found more options a best value with 25Karats. Though apprehensive about ordering precious jewelry online, we have it a try. We were rewarded, when a problem arouse, though it was 25Karats that notified us of a problem. They called me and told me that the ring manufactured was being rejected, and a new ring was to be made. This resulted in a slight 4 day delay. During this period they kept me informed via email. When curiosity ame on the 4th day, I called, and they said that they we just shipping the ring. They told me how to receive it and also followed up with an email and tracking. When it aririved, we signed for it and was impressed it was boxed, sealed with tape, with an inner box with the ring in another box, glued to the outer box, and the ring in a crush proof box, with the ring paper rapped and tagged with a seal for acceptance by us, or set for return. We were so pleased with the ring, the service and 25 Karats in general. We WILL use them again, and recommend them whenever able.
M.Z.
IA
"seems to sparkle in the light..."
July 11, 2019
My husband and I have been married 45 years and my original wedding band just broke. We decided to get new matching wedding bands and went to some jewelry stores but there wasn't much selection. So, we searched online at several sites and found 25karats site which had so many pages of beautiful etched bands. It was difficult to decide on one choice, but we ordered a beautiful etched matching band set. Then, A representative from 25karats called me to verify my order and she was very nice and informative about the order. The rings arrived in a timely manner and they fit perfectly and are gorgeous! They are etched with a beautiful intricate design, and the etching seems to sparkle in the light. We love the rings, and are excited to show them off, and we highly recommend 25karats for the excellent ring quality and professional staff who were so helpful.
P.B.
MI
"a happy wife = happy life..."
July 08, 2019
For our 10 year wedding anniversary, my wife asked for matching wedding bands. I spent a few hours wading through various sites and rings but I got excited when I saw the carved golden rings on 25K. I called my wife immediately and we quickly picked out the Floral Carved Antique Wedding Band Set. We asked a few questions in chat and emailed a couple of more later. The staff were friendly and responsive. They called me to verify the online order info before they would begin the work (smart). Our rings arrived at the expected time and they were exactly like the pictures. The sizes and engravings were perfect and we are thrilled with the order. The only minor hiccup - the shopping cart did not retain the order info the first time because I did not pay immediately. I recommend that you record all of the parameters as you decide then place the order and pay when you are ready. I also recommend a set of ring gauges. They are inexpensive and help get the sizes correct the first time to avoid resizing. Much love to the folks of 25k, a happy wife = happy life.
K.D.
CA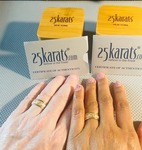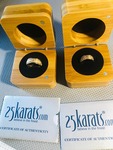 "I am so happy with my beautiful new wedding band..."
June 15, 2019
Thought the reviews were too good to be true, however, what a pleasant and seamless transaction especially online. Customer service was immediate by phone to confirm style ordered, ring size and best shipping arrangement. Quality was top notch and gold weight excellent. I am so happy with my beautiful new wedding band. I just can't say enough except that I will be returning in the future for another purchase.
E.T.
FL
What Our Customers Are Saying