Customer Testimonials
Thousands of happy customers
At 25karats,
customer satisfaction is our number one priority.
We want to provide you with the best service possible. Would you consider posting a review of us online? In addition to providing feedback, online reviews can help other customers learn about who we are and about the products we offer. They are also a great way to give referrals to your family & friends. Please take a minute to leave a comment for us at
here on 25karats.com
, we would really appreciate it.
"Best bang for your buck..."
May 08, 2019
Best bang for your buck if you are looking for an engagement ring! We compared prices everywhere and this is the best deal online or offline if you want a great diamond without breaking the bank or splurging on brand names. The education page is very helpful, but you can always ask the friendly people there any questions too; they answered all of our questions promptly.
D.R.
WY
"quality and workmanship are superb..."
April 13, 2019
I purchased a new setting for my diamond solitaire. The next day, I received a call to confirm my order. The man was very nice, and made me feel confident in my order. The ring came on the day that was promised, fit perfectly, and was beautiful! I took it to a local jeweler to have the stone mounted, and also had some smaller diamonds that I had, mounted on each side of the center stone. It turned out perfect!
I did not know what to expect when ordering a ring online, especially when their prices were so low compared to other jewelers. I checked the reviews, and decided to buy from 25karats. I'm very glad I did. Their quality and workmanship are superb.
R.D.
AZ
"thank you!..."
March 28, 2019
What can I say, these are some fine folks! We had a most pleasing customer service experience. We screwed up with the sizes when we first entered the order. With the help of a very polite and knowledgable gentleman we could fix the error before production started and got our sizes properly measured with a free sizing set. He also applied a discount to our order that we overlooked when placing it! On top of that, the lovely rings we ordered came in beautiful ring boxes that screams quality. My wife is so pleased with her ring she never wants to take it off of her finger. We just want to say thank you!
"will definitely recommend to all our friends..."
February 13, 2019
We were looking for affordable but high quality rings for our wedding, and after weeks of search we found our dream set! 25karats was courteous and professional from ordering to delivery. We were notified with a tracking number and package was delivered on time. They asked for signature upon delivery so we didn't have to worry about our rings lying on the front porch. We are really really happy with our rings and will definitely recommend 25karats to all our friends!
Jenny
TX
"The quality, design, and craftsmanship are superb! ..."
January 30, 2019
My husband and I were looking for new wedding bands because my old one no longer fit. I was very skeptical about ordering the rings online. However, I was not able to find any rings I liked in any of our local jewelry stores. So, I started searching online. I accidentally stumbled upon the 25karats.com website. They had the best variety of any of the other sites I had found and the reviews were good. So, I took a chance and ordered our rings. They arrived yesterday. They are positively gorgeous! The quality, design, and craftsmanship are superb! I am extremely pleased with my purchase and would not hesitate to order from them again!
M.D.
NJ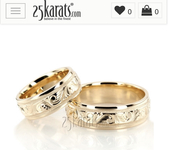 "sparkly..."
January 03, 2019
25karats were very kind and very helpful. I love them and my diamond ring, which is not only beautiful, but also sparkly. I'm very happy with my purchase.
R.M.
CA
"gorgeous wedding band..."
December 21, 2018
"Extremely pleased with the quality and price..."
November 20, 2018
Ordered my wedding bands in 2016 through 25Karats and was Extremely pleased with the quality and price. Recently I had an accident that changed my ring size from a 9 to a 10 3/4. I explained my situation to 25Karats, and in a matter of days they resized my ring for me only charging a small fee for the service. I will be using this company again! Great customer service..>Thank you!
D.M.
MD
"my fiance will love it..."
November 12, 2018
This is a beautiful ring that looks true to the pictures. It's nice quality. Thank you very much. I believe that my fiance will love it!
C.B.
VA
"Love, Love , Love our rings!!!!..."
August 15, 2018
Love, Love , Love our rings!!!!
Thank you so much for our beautiful rings, the quality is five star. I was skeptical of ordering online but to my pleasant surprise they are exactly what we were looking for. I will highly recommend you to all of my friends and family. My son is getting married in 2 yrs and he is already browsing your site.
VERY SATISFIED
Melissa & Mark
Oxford Massachusetts
What Our Customers Are Saying