Customer Testimonials

Thousands of happy customers
At 25karats,
customer satisfaction is our number one priority.
We want to provide you with the best service possible. Would you consider posting a review of us online? In addition to providing feedback, online reviews can help other customers learn about who we are and about the products we offer. They are also a great way to give referrals to your family & friends. Please take a minute to leave a comment for us at
here on 25karats.com
, we would really appreciate it.
"customer service is TOP NOTCH! ..."
August 09, 2019
my wife-to-be bought me a palladium Item: BA101211 Exquisite Religious Wedding Ring in September of 2010 . been great and have loved it every minute for the past 9 years. recently sent it back for a resizing to increase a 1/2 size. item was turned around completely in about 2 weeks. came back completely refinished, repolished, resized, and looking like BRAND NEW! shipping charges were high (not 25karats fault) - but well worth the expense to have a great fitting and great looking ring! customer service is TOP NOTCH! THANK YOU!!!
R.H.
OH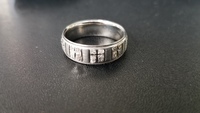 "so pleased with the ring, the service and 25karats..."
July 12, 2019
We shopped extensively for my wedding band, wanting a novel Celtic design. We found more options a best value with 25Karats. Though apprehensive about ordering precious jewelry online, we have it a try. We were rewarded, when a problem arouse, though it was 25Karats that notified us of a problem. They called me and told me that the ring manufactured was being rejected, and a new ring was to be made. This resulted in a slight 4 day delay. During this period they kept me informed via email. When curiosity ame on the 4th day, I called, and they said that they we just shipping the ring. They told me how to receive it and also followed up with an email and tracking. When it aririved, we signed for it and was impressed it was boxed, sealed with tape, with an inner box with the ring in another box, glued to the outer box, and the ring in a crush proof box, with the ring paper rapped and tagged with a seal for acceptance by us, or set for return. We were so pleased with the ring, the service and 25 Karats in general. We WILL use them again, and recommend them whenever able.
M.Z.
IA
"seems to sparkle in the light..."
July 11, 2019
My husband and I have been married 45 years and my original wedding band just broke. We decided to get new matching wedding bands and went to some jewelry stores but there wasn't much selection. So, we searched online at several sites and found 25karats site which had so many pages of beautiful etched bands. It was difficult to decide on one choice, but we ordered a beautiful etched matching band set. Then, A representative from 25karats called me to verify my order and she was very nice and informative about the order. The rings arrived in a timely manner and they fit perfectly and are gorgeous! They are etched with a beautiful intricate design, and the etching seems to sparkle in the light. We love the rings, and are excited to show them off, and we highly recommend 25karats for the excellent ring quality and professional staff who were so helpful.
P.B.
MI
"a happy wife = happy life..."
July 08, 2019
For our 10 year wedding anniversary, my wife asked for matching wedding bands. I spent a few hours wading through various sites and rings but I got excited when I saw the carved golden rings on 25K. I called my wife immediately and we quickly picked out the Floral Carved Antique Wedding Band Set. We asked a few questions in chat and emailed a couple of more later. The staff were friendly and responsive. They called me to verify the online order info before they would begin the work (smart). Our rings arrived at the expected time and they were exactly like the pictures. The sizes and engravings were perfect and we are thrilled with the order. The only minor hiccup - the shopping cart did not retain the order info the first time because I did not pay immediately. I recommend that you record all of the parameters as you decide then place the order and pay when you are ready. I also recommend a set of ring gauges. They are inexpensive and help get the sizes correct the first time to avoid resizing. Much love to the folks of 25k, a happy wife = happy life.
K.D.
CA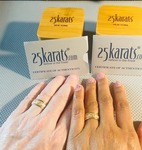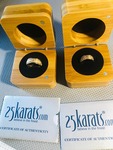 "I am so happy with my beautiful new wedding band..."
June 15, 2019
Thought the reviews were too good to be true, however, what a pleasant and seamless transaction especially online. Customer service was immediate by phone to confirm style ordered, ring size and best shipping arrangement. Quality was top notch and gold weight excellent. I am so happy with my beautiful new wedding band. I just can't say enough except that I will be returning in the future for another purchase.
E.T.
FL
"Best bang for your buck..."
May 08, 2019
Best bang for your buck if you are looking for an engagement ring! We compared prices everywhere and this is the best deal online or offline if you want a great diamond without breaking the bank or splurging on brand names. The education page is very helpful, but you can always ask the friendly people there any questions too; they answered all of our questions promptly.
D.R.
WY
"quality and workmanship are superb..."
April 13, 2019
I purchased a new setting for my diamond solitaire. The next day, I received a call to confirm my order. The man was very nice, and made me feel confident in my order. The ring came on the day that was promised, fit perfectly, and was beautiful! I took it to a local jeweler to have the stone mounted, and also had some smaller diamonds that I had, mounted on each side of the center stone. It turned out perfect!
I did not know what to expect when ordering a ring online, especially when their prices were so low compared to other jewelers. I checked the reviews, and decided to buy from 25karats. I'm very glad I did. Their quality and workmanship are superb.
R.D.
AZ
"thank you!..."
March 28, 2019
What can I say, these are some fine folks! We had a most pleasing customer service experience. We screwed up with the sizes when we first entered the order. With the help of a very polite and knowledgable gentleman we could fix the error before production started and got our sizes properly measured with a free sizing set. He also applied a discount to our order that we overlooked when placing it! On top of that, the lovely rings we ordered came in beautiful ring boxes that screams quality. My wife is so pleased with her ring she never wants to take it off of her finger. We just want to say thank you!
"will definitely recommend to all our friends..."
February 13, 2019
We were looking for affordable but high quality rings for our wedding, and after weeks of search we found our dream set! 25karats was courteous and professional from ordering to delivery. We were notified with a tracking number and package was delivered on time. They asked for signature upon delivery so we didn't have to worry about our rings lying on the front porch. We are really really happy with our rings and will definitely recommend 25karats to all our friends!
Jenny
TX
"The quality, design, and craftsmanship are superb! ..."
January 30, 2019
My husband and I were looking for new wedding bands because my old one no longer fit. I was very skeptical about ordering the rings online. However, I was not able to find any rings I liked in any of our local jewelry stores. So, I started searching online. I accidentally stumbled upon the 25karats.com website. They had the best variety of any of the other sites I had found and the reviews were good. So, I took a chance and ordered our rings. They arrived yesterday. They are positively gorgeous! The quality, design, and craftsmanship are superb! I am extremely pleased with my purchase and would not hesitate to order from them again!
M.D.
NJ