Customer Testimonials

Thousands of happy customers
At 25karats,
customer satisfaction is our number one priority.
We want to provide you with the best service possible. Would you consider posting a review of us online? In addition to providing feedback, online reviews can help other customers learn about who we are and about the products we offer. They are also a great way to give referrals to your family & friends. Please take a minute to leave a comment for us at
here on 25karats.com
, we would really appreciate it.
"It's just perfect for him!..."
October 21, 2023
So excited about this ring, it's just perfect for him. Thank you for all your help, you've made this such a wonderful experience for both of us!
"Yes!..."
August 28, 2023
Yes! The rings are beautiful! Love them and the expert help we got on sizing!
"LOVE MY RINGS!..."
July 17, 2023
Just got my rings and I LOVE them. Thank you for working with me on the customizations, they look wonderful. Please relay my thanks to your fabricators. They are true craftsmen/women.
Kate K.
"I could not believe the beautiful artisan's work!..."
June 15, 2023
The rings are beautiful! They looked lovely on your website but I am amazed with the jeweler's craftsmanship since you mentioned that they are made to order. I could not believe the beautiful artisan's work!
"Good quality!..."
June 08, 2023
Ring were sized correctly and appeared to be of good quality, but wife's 18 Karat hold ring color was not the 18 Karat gold color that we expected. Her 18 karat gold engagement ring did not match the band at all. Ring look very similar on color to the 14 Karat Grooms ring.
"Absolutely perfect!..."
May 16, 2023
I have received my ring back. It is absolutely perfect. Thank you very much for your time and help and to make this process so easy. I really appreciate everything you did.
Raquel HS
"So happy with our rings!..."
April 05, 2023
Oh my goodness my fiance and I are so happy with our rings! Ece has been nothing but kind and patient with our requests and questions. We're from out of state as well and they're so accommodating to our needs. Their expertise in rings and finish should greatly be taken into consideration. Because our rings came out so beautiful and stunning. When we saw the rings my fiancee and I got excited for our upcoming wedding. I would highly recommend it!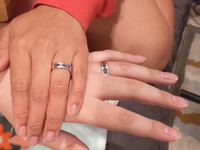 "Fits perfectly!..."
April 03, 2023
My husband's ring fits him perfectly! I appreciate the team and everyone's efforts in making my gift to my husband successful.
"Great service, price and delivery..."
March 30, 2023
Great service, price and delivery, but even though I went to a jewelry store to make sure I was a size 9 (wide), it's just a bit too loose. Please contact me about a replacement, thanks! ◡̈
"I LOVE my new ring. ..."
February 02, 2023
THANK YOU SO MUCH!!!! I LOVE my new ring. It is exactly what I wanted. You and your teams rock!!!!