Jewelry Education Center
Essential Information on Diamonds, Gemstones, Jewelry and Precious Metals
Diamond Cut
The most important characteristic when choosing a diamond.

Diamond Carat
The most important characteristic when choosing a diamond.

Diamond Color
How to choose the best diamond color for you.

Diamond Clarity
Read all about the various diamond clarity grades.

Diamond Shapes
From round to radiant by way of princess, oval, marquise unique shapes.

The 4 Cs of Diamonds
A diamond definition and an overview of diamond carat, cut, color and clarity

Diamond Certificates
Learn more about buying a loose diamond with or without certificate.

PRECIOUS METALS
What's the difference between 14K and 18K gold? Why is platinum so special? What exactly is white gold? Learn about Gold, Platinum and Palladium and discover the special characteristics of each metal used in your favorite jewelry.

Gold
Discover the difference between 14K, 18K and 24K gold and learn about gold's special qualities.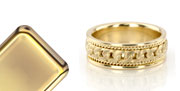 Platinum
Find out what makes platinum jewelry so special.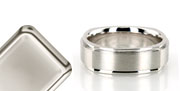 Palladium
Find out how Palladium is made and what gives it its special features.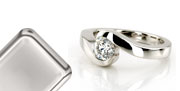 GEMSTONES
Learn All About Sapphires, Emeralds, Rubies and Semi-Precious Stones Discover interesting facts about your favorite gemstones, and learn all about gemstone cuts, clarity, color and more.

Sapphire Facts
Where do sapphires come from? How did they get their name? What colors are available?
Emerald Facts
How hard are emeralds? Which month is emerald birthstone month? What shades do they come in?
Ruby Facts
Where are rubies found? What celebrations are traditionally celebrated with rubies?
JEWELRY RESOURCES
Some general information about Jewelry.